Yabbu is a virtual meeting conducting software that helps you share agendas, files, documents, tasks, and issue discussion in a standardized way online before a meeting.
If you're somebody who is always unproductive during meetings without a proper plan, goal, and agenda. And can't keep everyone on the same page and can't make meetings short?
If you've said – "Omg this is relatable to me"…
You've come to the right place.
Let's dive into a deep Yabbu Review.
If you often conduct corporate meetings or an agency owner or anyone who conducts meetings. You definitely want the meetings to be productive and short. Right?
No worries from today, you've got Yabbu!
What does Yabbu do?
Let's look at what Yabbu has to offer you –
Gives you context and agenda of the meeting
Before you join the meeting you can get the context of the meeting discussing viewpoints.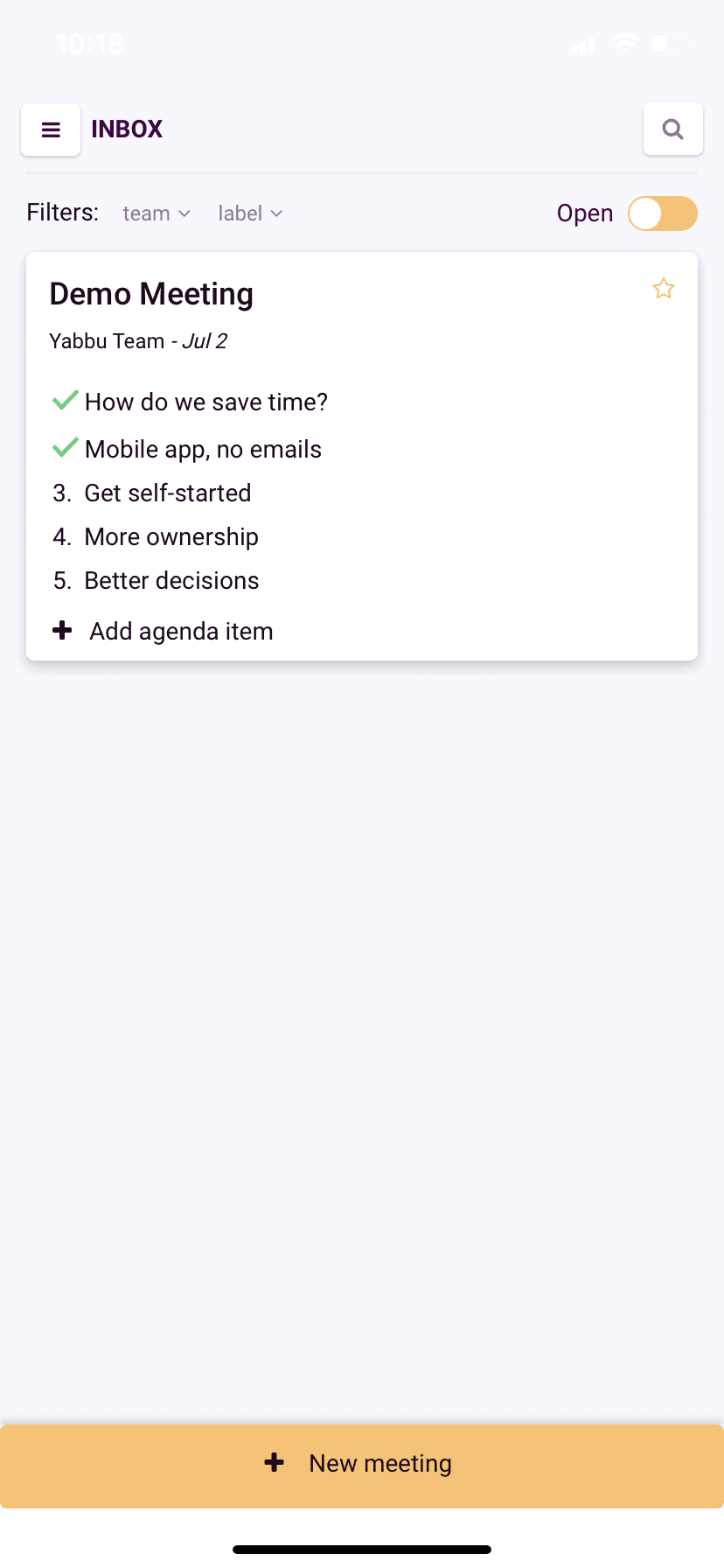 Write then meet
Yabbu helps you participate in the work and help you discuss and find solutions by texting and commenting first. If the problem genuinely needs a meeting you can hold a meeting and discuss it. It saves you lots of time by preventing unnecessary meetings.
Autosave the doc
Sometimes your writing gets deleted when you close the window or app. Yabbu autosaves/drafts your doc just like google Docs to prevent data loss.
Take your own time to gather your thoughts
Meetings build your spontaneous decision-making ability. But it might be full of risk. But using Yabbu helps you take time to gather your thoughts and present in an attractive way that is less of risk.
Structure your thoughts.
Fewer meetings and emails.
Makes time productive (by saving meet-wait time)
Discuss the agenda before you even meet.
No more video fatigue.
Saves you hours of time.
Lack of live support.
Not suitable for small freelancer (no or less team members, majorly solopreneurs)
Pricing
The pricing plan of Yabbu –
Personal plan of $11.92/month.
Group plan of $47/month.
Enterprise plan of $357/month.
But appsumo offers you a special Lifetime deal of $49/one time.
Is Yabbu for you?
Yes, if you're someone who frequently gets into meetings and gets confused and messed with topics. Yabbu can help you organize meetings and even gets your workload off your ass.
—
Yabbu can be a GREAT meeting tool which enhances your productivity and saves you time rather than boring meeting on skype or zoom.
I hope you liked Yabbu Review, if you have any questions, do let me know in the comment section.
Share this with your friends for whom it might be useful. Sharing is caring.