Looking to use Typefully as your thread writing companion? Thinking whether the free version is good enough or not?
Our Typefully review will help you make an informed decision!
Typefully Review
For starters, Typefully is a tool developed by MailBrew Team for those who want to write Twitter threads without any distractions.
The best part is, It is free to use. You can create as many threads as you want without any limit.
Features of TypeFully
Starts at – Free, $8/month (billed yearly)
Unrolled Pages – Reading Threads without any friction
Advanced Analytics with detailed stats
Collaboration – Leverage the power of team collaboration
Competitors – HypeFury, TweetHunter, Zlappo
Free vs Premium
The free version offers writing and scheduling threads while the premium version unlocks advanced features such as stats, collaboration, and more.
You need premium plans for posting videos out.
Multi-Account: This version is only available if you're on the Team or Creator plan. You can connect up Twitter accounts and manage them from a single Typefully dashboard.
Team Collaboration: You can invite team members and collaborate on Twitter threads. You can set up permissions to write, edit, or publish threads.
Analytics and Stats: This is one of the most powerful features of Typefully. You can see detailed stats of your Twitter account
When Your Audience is most active,
What kind of content performs well
Profile Conversion Rate
Tweeting Streak, the Best time to tweet
And more…
If you just want to post a few Twitter threads here and there, the free version is probably good enough.
But if you're serious about using Twitter to build an audience and grow your following, I recommend upgrading to a premium plan.
Pricing
Pricing is very simple. It starts at $8/month (billed yearly). If you want to use Typefully for multiple Twitter accounts, you need to subscribe to the Creator or Team Plan.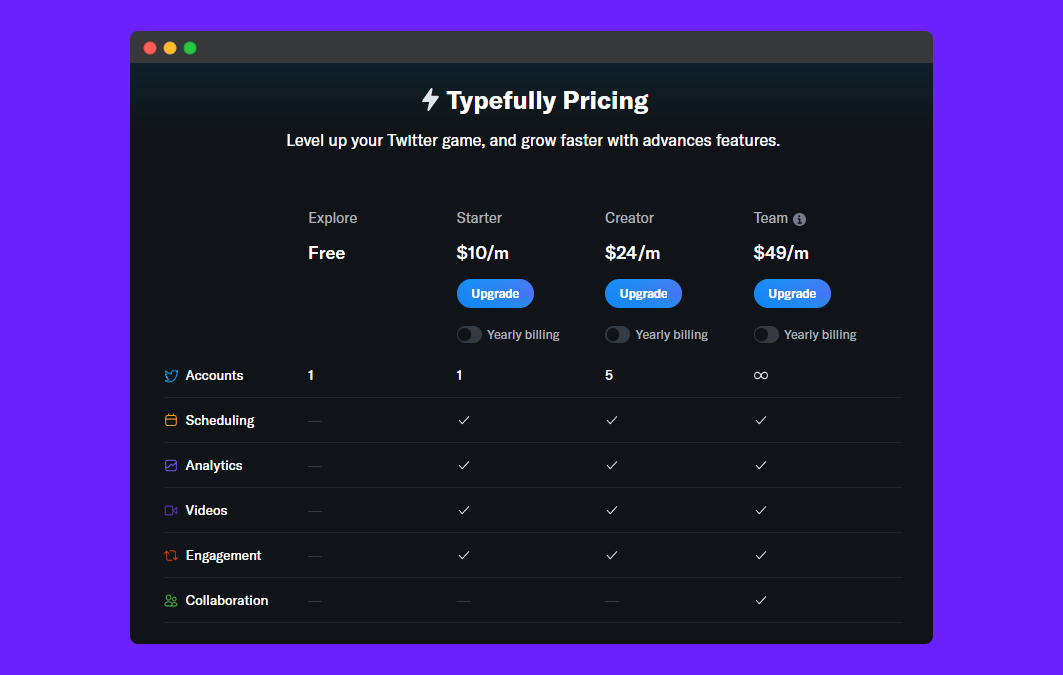 The Creator plan starts at $19/month (billed yearly) or $24/month in which you can connect up to 5 Twitter accounts.
Whereas, The Team plan starts at $39/month (billed yearly) or $49/month in which you can connect unlimited Twitter accounts
Final Words
I reviewed most of the top thread-writing tools, and I have to say, Typefully is in a class by itself. The process is so streamlined and user-friendly, and the end result is always a high-quality, well-written piece.
Typefully has definitely made my life as a freelance writer a lot easier, and I would recommend it to anyone who wants a hassle-free way to produce great content.
My Typefully Profile: https://typefully.com/ishehraj