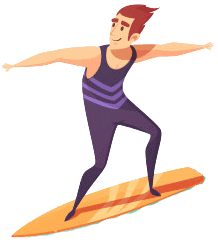 SurfSaaS is an online publication that reviews the hottest SaaS deals in the market. Due to marketing geek staff, We love to review products that boost your marketing performance.
We've tried to cover everything from lifetime deals, subscriptions, latest launches, etc but due to lack of expertise, we can't review every single deal.
Categories we talk about;
WordPress Deals
CRO
Content Creation
Marketing
Producitivity- Vipin
Currently, We're three members that reviews deals in these zones
Shehraj Singh: Being the founder, He looks into every aspect of business whether it's content creation, Internal operations, etc. He loves to review deals around Advertising, Sales, WordPress, Content Creation, etc.
Gaurav Chhablani: He is a content writer. He loves to talk about deals related to conversion rate optimization, content creation, social media, SEO, advertising, etc.
Vipin Gupta: He is quite new to our team but he always talks about WordPress, Design tools & productivity.
Our Story
From Heart of Shehraj:
It was 15 October, When I (Shehraj) called my friend Tej to discuss an idea that How people are unable to find and invest in good LTD Deals.
There is a GAP inside the market that we need to cover up. We discussed around 1 hour to validate the idea of SurfSaaS. For me, He is one of the most difficult people to convince.
Guess what, He agreed with this idea. That was enough for me. Around 12 AM, I jumped over to the domain registrar to register this domain.
That's all how we started SurfSaaS. Meanwhile, I'm documenting every single progress of our venture. Click here to checkout
Signing off,
Shehraj
---