For some unforeseen reason, imagine resetting your website?
Reasons might be
You want to start from scratch
Hacked website
Testing new themes on your website
Select… Delete… Select… Delete… Select…
Such a lengthy job to do. Right?
What if I told you, you can replace "Select… Delete" with just a click and reset your website?
Yes! It's true… In this WPreset review, you'll learn how you can reset your website with just a click.
(PS- I'll tell you bonus benefits of WPreset that'll save you hours)
WP Reset review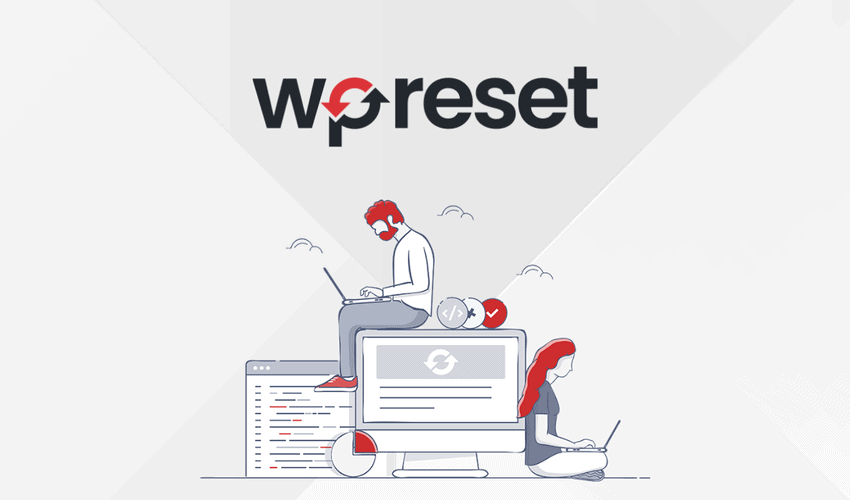 WP Reset is a tool that helps you reset your website erasing all your data leaving "Hello world" on your website. You can also easily import plugins from your previous site if you're creating a new one from scratch.
Plus you can use previous versions of plugins in case a newer version suck (after update)
Want all features in one place? Here it is –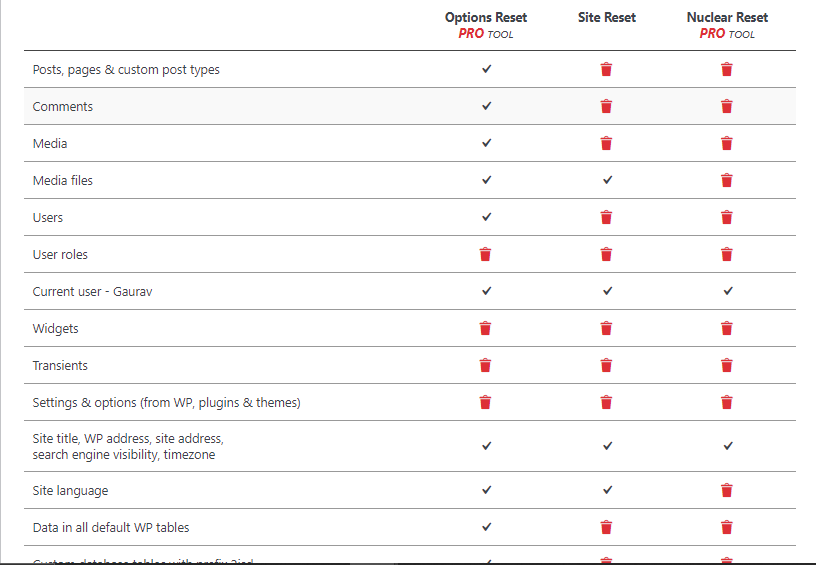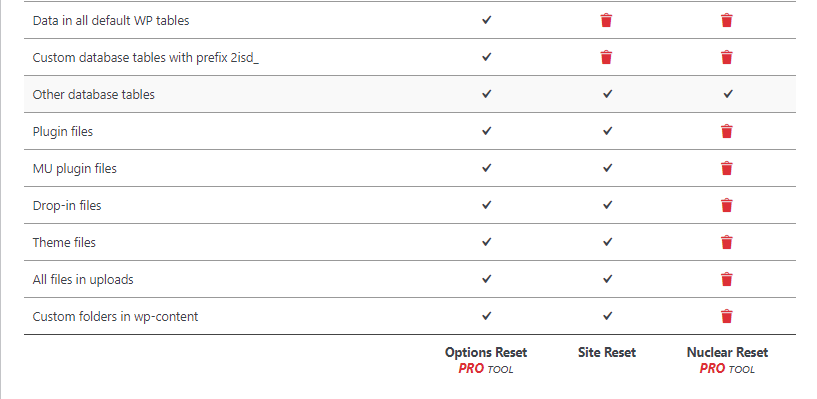 What does WPReset do?
Let's look at WPreset benefits one by one.
Reset your website with a click (Nuclear Reset)
You've built a website you that HATE to continue now.
And you want to make sure all the files, images, blog posts, pages, tables are gone.
Hitting the nuclear reset button will erase everything. And you can give a new start to your website.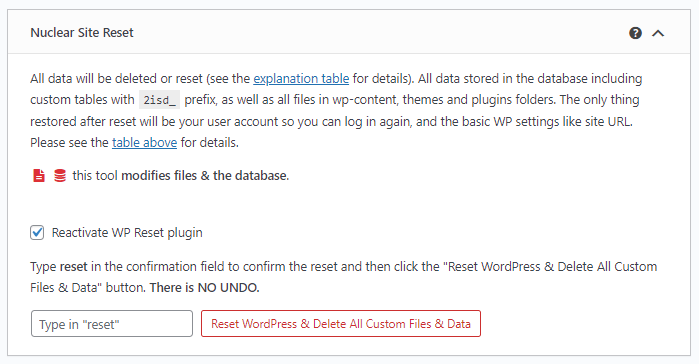 Virtual plugin time machine
"Hey, there is a new update available in that plugin"
"Done, let's see what's new!"
A few minutes later
"Aah, this new update SUCKS, how do I roll back to the older plugin version?"
If you ever wish to roll back a plugin update, using WPreset you can go to previous versions of the plugin that doesn't SUCK.
Installs your favorite plugin's quickly
Now, you've got a website that's growing like crazy.
And you've decided to start another website to expand your income sources.
Got a domain and hosting. And now you're setting up.
*Goes to plugin section – Types name – Install – Setup*
Follows the same for the next plugin.
THAT's TIME TAKING.
Want a one-click solution that installs your favorite plugins FAST?
Using WPreset, you can install plugins from your older site to your newer site with just a click.
Theme demo clean up
When you install a new theme, it comes with a lot of demo content on your site to guide you.
And it takes hours to clean it up.
WPreset makes it easier for you to clean the demo using few clicks in minutes.
Emergency Recovery Script (ERS)
Emergency recovery script is a WordPress-independent, single-filed script that helps you recover your site data in extreme situations.
You need ERS when –
you've no more admin access
Receiving no reset password emails.
Your website is hacked.
White screen (nothing is showing up)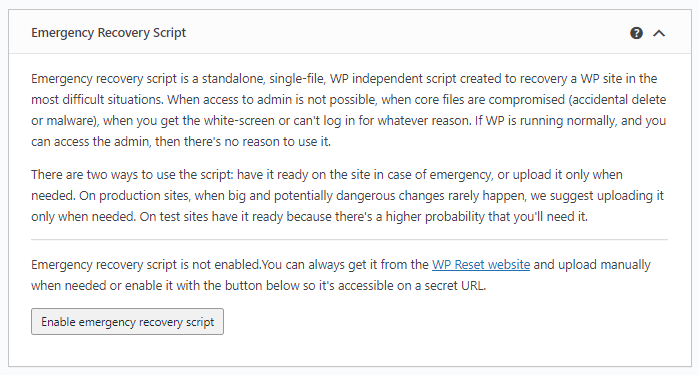 Snapshots
Snapshot is a way that helps you restore the data of your site.
In case you're updating or making significant changes in the site's plugin or files and anything goes wrong.
You're on the safer side to restore all the data and changes.
Previously, there were some issues with snapshot export compatibility which was fixed in V5.79 in January 2021.
White label (for agency owners)
If you run an agency, you can hide WPreset branding using white labeling and brand yourself.
Agency owners pack allows you access to 100 websites with a no brainer offer of $139/year which we'll discuss further
Keyless client website activation
One of the best WPreset benefits for agency owners is the keyless activation of WPreset on the client's website.
Activating the plugin only requires entering your client's domain name.
This way, you activate this plugin without revealing your license key.
Pricing
Currently, There is a lifetime deal going on Appsumo, Where you can stack wp rocket for lifetime deal for just $49. Here is how pricing structure looks like.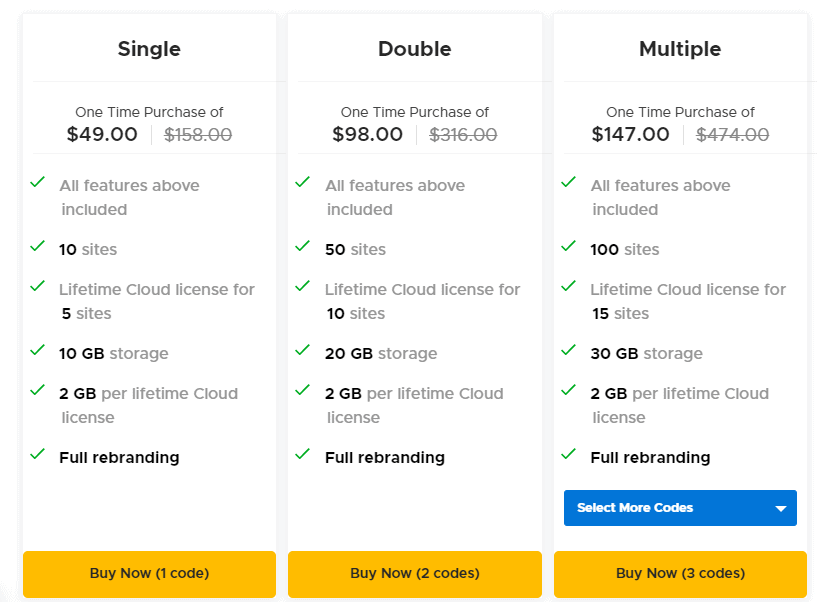 Is WPreset for me?
With WPreset, you can remove all the files on your website with one click or launch a new website and import the plugins from an older one.
And who wants to secure their website data from hackers and unprotected plugins which might cause potential harm.
So, If you're someone who wants to protect their website data or erase it.
Yes, WPreset is for you.
Resetting your website is made easy with WPreset which saves you hours. Moreover, WPreset helps you
Get an older version of plugins (if the newer version sucks).
Takes snapshots for backup.
Save your ass from hackers using ERS.
White label for agency owners.
Do let us know if this WPreset review helps you make a decision or if you have any questionnaire regarding the same in the comment section below.
Share this post with your friends if they want to reset their website and they're feeling stuck.