Creating an email opt-ins form can be a headache, and body aches if you're not a designer. You don't know what works and whatnot. Don't worry, I've got you covered.
I spent a heck of a lot of time testing various different plugins like ConvertPro, Sumo, Optin forms, ConvertBox, etc.
Finally, Battle testing these various WordPress email list building plugins, I ended up on Thrive leads.
In this post, I'll share my last two years with Thrive Leads.
Let's Dive in…
Thrive Leads – Overview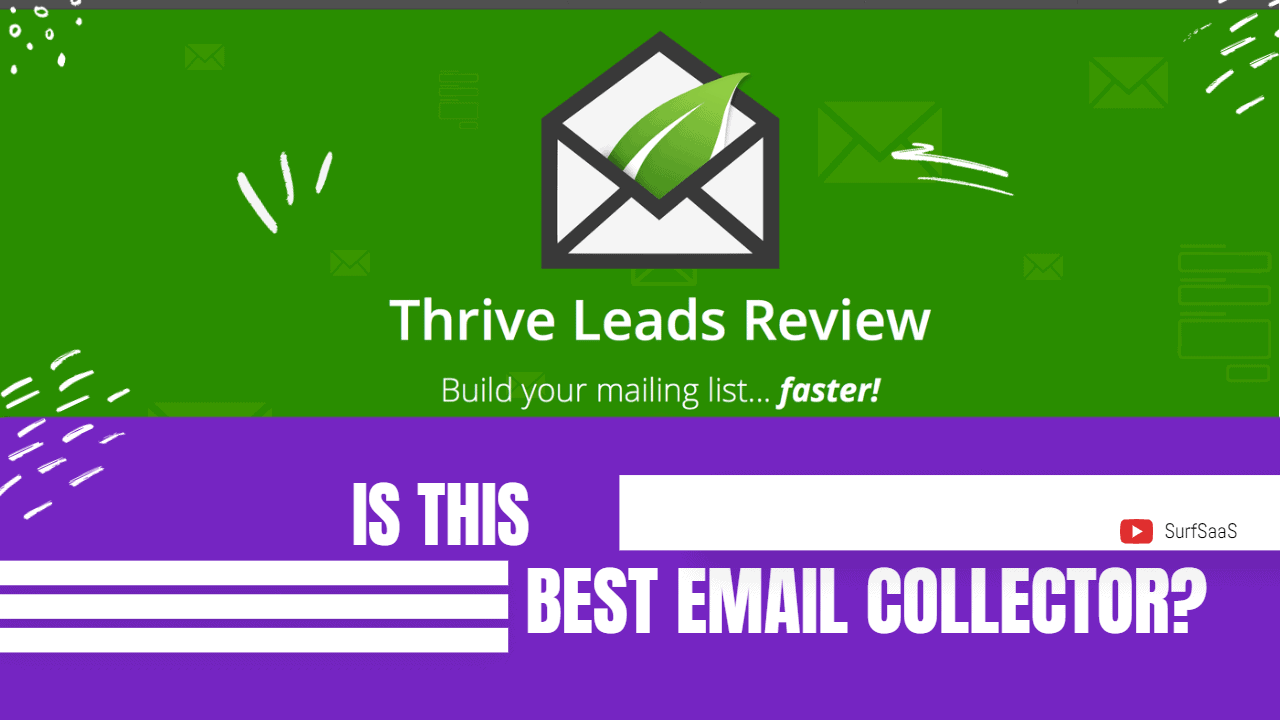 Thrive Leads is a part of Thrive Themes family where they develop plugins to unlock conversion rate optimization (CRO) functionalities of WordPress sites.
This company was founded by Shane Melaugh (marketing expert) and Paul McCarthy (Tech geek) with the aim to help bloggers create a conversion-friendly website solution. 
When marketer and developer united together, They had a baby called Thrive Leads which is a WordPress plugin that helps marketers to skyrocket their optin rates by creating opt-in forms.
Now, let's look at a deeper version to understand it better.
Pros And Cons of Thrive Leads
Beginner-friendly – You don't have to be a good designer, if you are, it's a plus point. And if not, still you can build highly converting email opt-in forms in a few minutes. 
Converts visitors into subscribers like crazy – Thrive Leads and other plugins are made keeping conversions in mind. Easy to use tool that converts your website traffic into a lead-generating machine. 
Complete mobile-friendly design display – Most of the traffic on a website comes through a mobile device. You'll get mobile-optimized opt-in displays that work great for smartphone users. 
Can use DFY proven templates – Ahh! Designing opt-in forms from scratch can be a headache but thrive leads have done for you pre-made conversion-optimized templates which you can drag-drop from the template library
Blocks/Avoids already subscribed users to fill the form again – If someone is already a subscriber, you'll not want him to subscribe again and again. Right? This tool allows you to hide the lead form from your subscribers. You'll discover more such benefits down below. Read till the end.
Cons 
No scheduling – You cannot schedule any form through thrive leads. For example- if you have any offer or promotions, you need to start and stop the form manually. 
Lacks some advanced targeting options – Apart from tons of content targeting rules, thrive leads doesn't give you some advanced targeting options like – WordPress user role, Adblock usage, Referring URL, Geographic location which helps in personalization. 
Works only with WordPress – You cannot integrate Thrive leads plugin with any platform other than WordPress. After researching thrive leads, let me tell you why to thrive leads are the best solution for your lack of conversions. 
Features
Thrive have a lot of features;
Drag-drop editor 
A/B testing 
Easy built-in Tracking and analytics 
Content lock opt-in form 
Trigger settings 
On page load 
Exit intent 
Design library 
SmartLinks
Let's cover them one by one…
Drag-drop editor 
Doesn't matter if you're good at designing or not. The drag-drop feature will make it way easier to create an email opt-in page. 
If you want to edit your own template, you can select a blank template and design it from scratch. 
Plus, you get tons of done for your conversion-focused email opt-in templates. 
Once you select the template of your choice. Thrive lead will open a visual editor to make changes. 
You can customize any element on your own in an unimaginable way.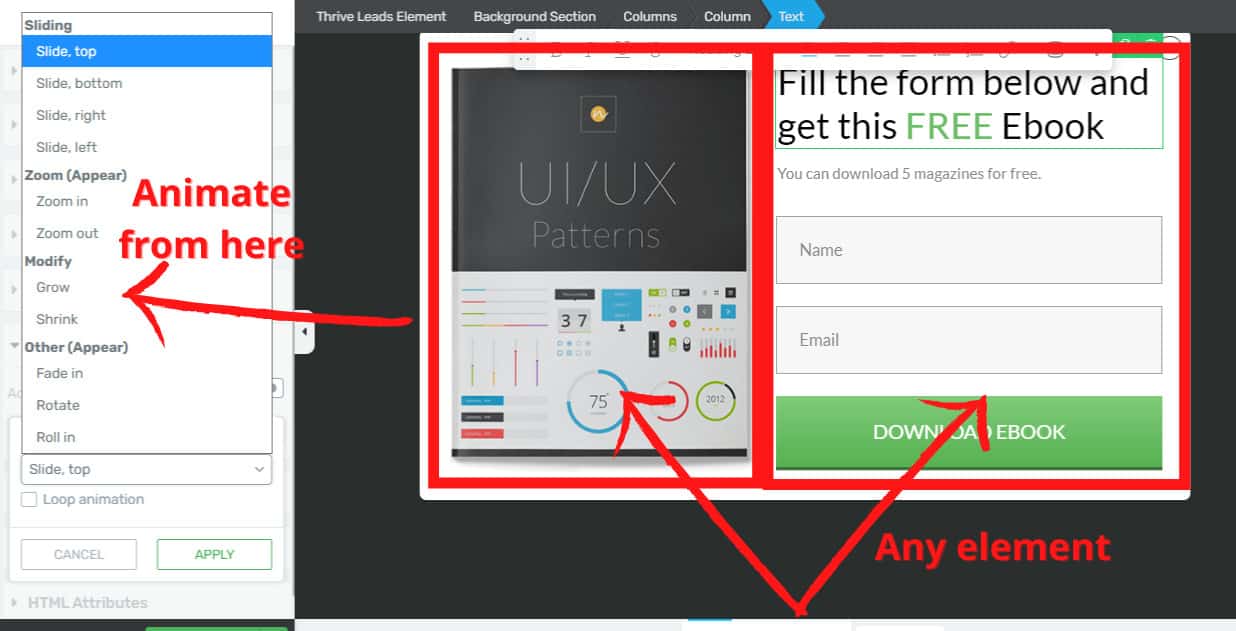 A/B testing 
Okay, now even using pre-made templates, there are still chances of some templates not working for you. 
Thrive leads give you a split A/B testing feature, where you can test different templates and find out the winning template.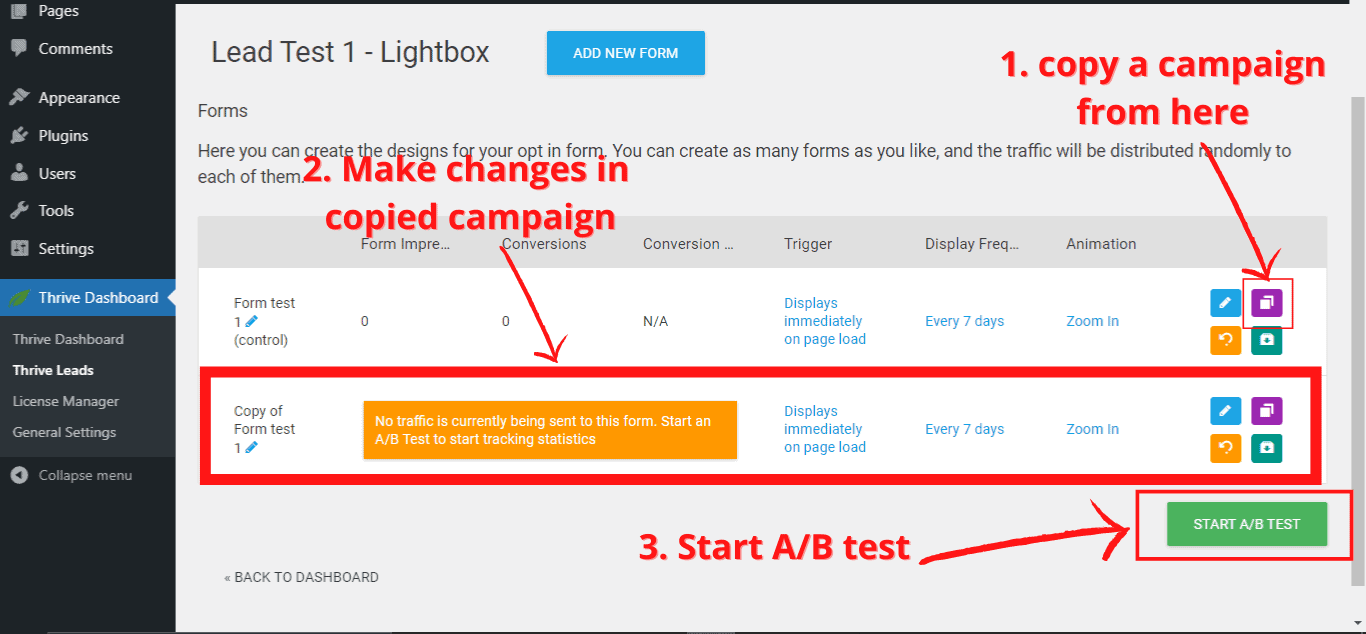 Note – You'll be asked to enable auto pick the winner. You can control the winner by yourself, or you can let thrive lead to pick a winner for you. 
The plugin will pick a winner by itself using these criteria 
Least duration 
Most conversion 
Chances to beat original (Chances of an alternative to beat original)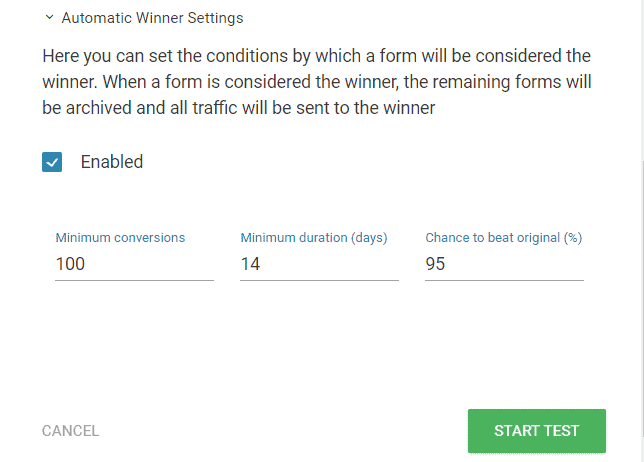 Websites have increased conversion rates significantly after using the unique A/B testing feature of thrive leads.  
Tracking and analytics
I bet you're going to love these easy analytics and tracking features of thrive leads. 
Track out the best-performing pages on your site and apply the same strategy. 
Moreover
Thrive leads tells you built-in analytics of – 
Conversion 
Conversion rate 
Impressions
Now, if you don't connect your google analytics to thrive, it will work because of built-in tracking and analytics.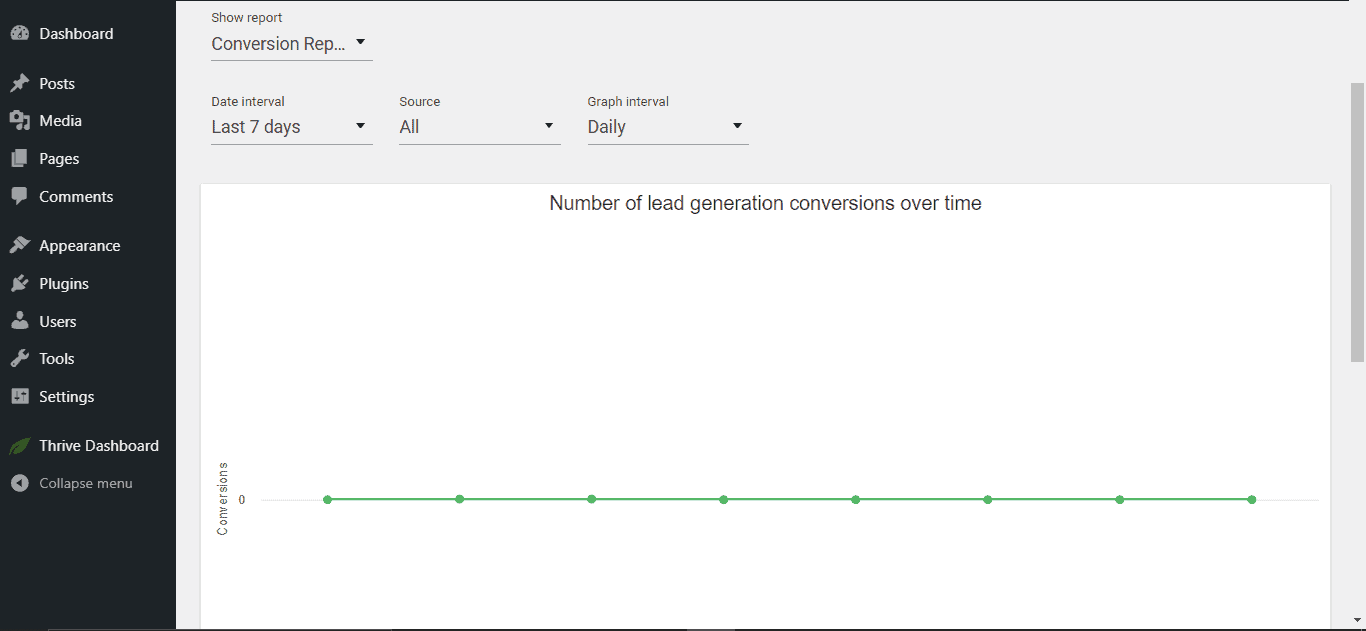 LOL, I didn't generate a single lead (It's because I bought thrive leads to make you understand) 
Content lock opt-in form 
One of my favorite benefits is that you can lock your content (Blurs the background). 
This helps you collect the email addresses of your visitor. 
Does this sound familiar to you? Isn't it what all the other plugins do? What's new? 
Well, the content lock opt-in form locks your content until the visitor submits their email address. 
This means the visitor will not be able to read the content they fill the opt-in form. 
Filling the form is FREE, so visitors wouldn't mind filling it. I was reading a blog of Backlinko (Brian Dean) and saw –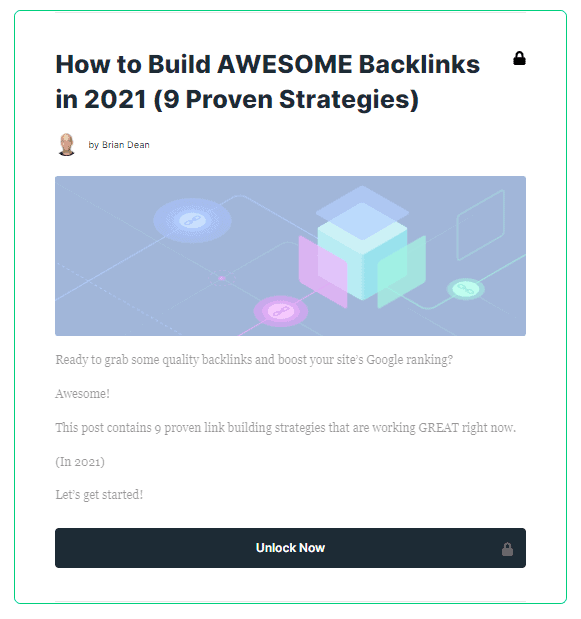 When I click unlock now –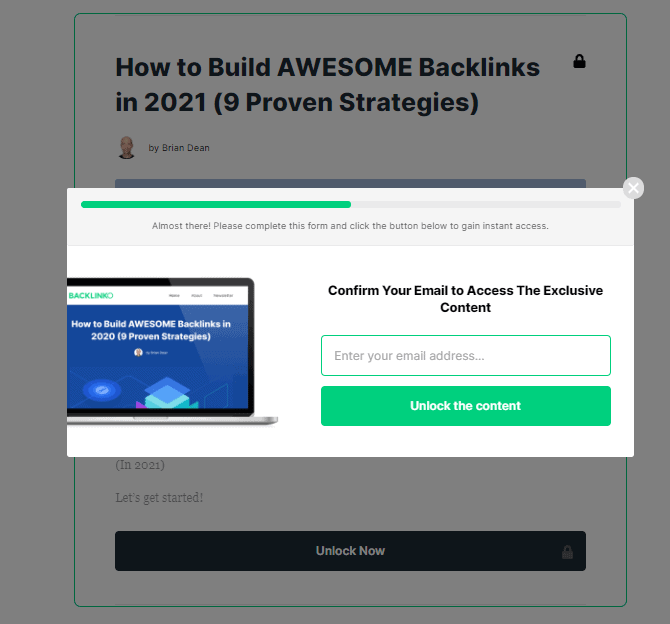 I was asked to fill the form. 
To use the content locking feature, you need to add a shortcode. Don't worry, it's a feature, you don't need to code LOL.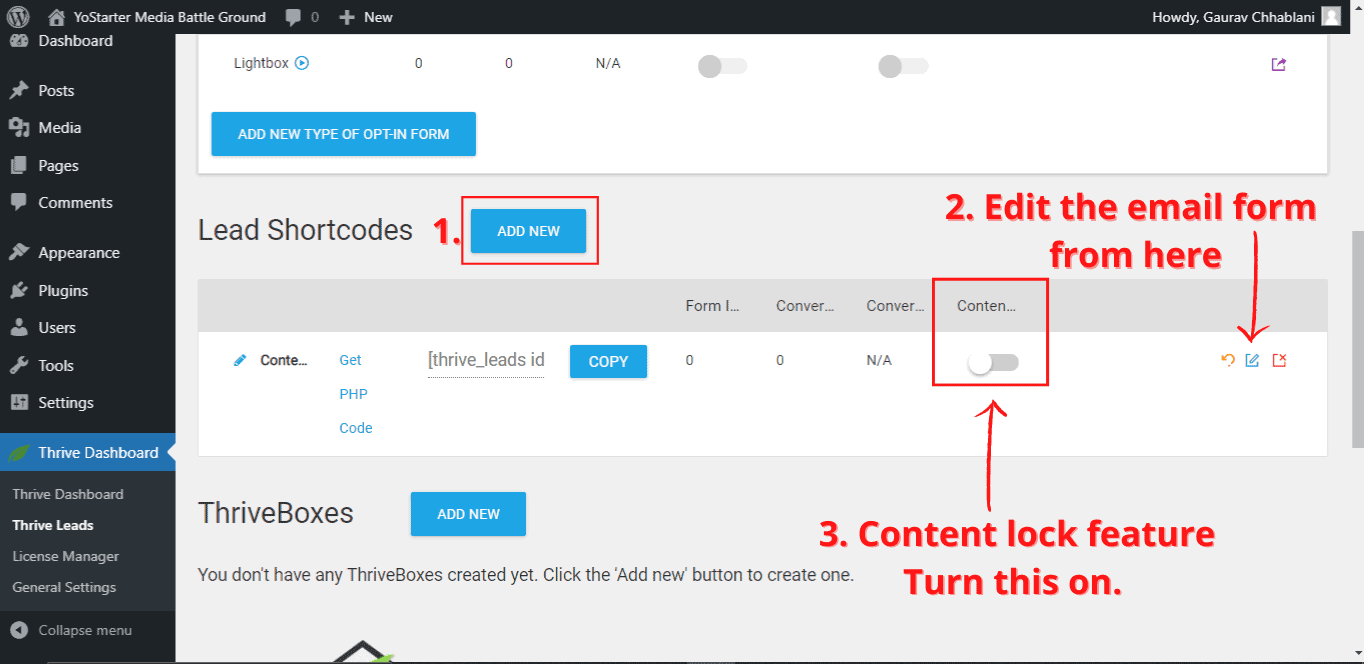 Trigger settings 
Have you ever noticed, the email opt-in forms popping up as soon as the web page loads, or you scroll down to some specific content or just before you are about to close the website??
If you've noticed, then just know it was all planned and not a mere coincidence. And now you can do it too!! 
Because thrive leads have advanced trigger options 
On page load 
Using this trigger option, your email opt-in form will load as soon as the web page loads. 
Pro Tip – You can give away a FREE "Info product" in exchange for an email address. 
After a certain period of time 
You can also set an opt-in email pop-up after a specific percentage of content read by the user. 
For instance, if a visitor reads more than 70% of your content, he is highly interested, and asking him to exchange email will be way easier. 
Exit intent 
Exit intent!! 
This trigger option helps you pop up the email opt-in form to pop right before a visitor is about to leave. 
At times, the user might feel bored and decide to leave. That is when the cursor moves towards the browser window. 
That is the time when you ask him for his email. 
Exit intent opt-in may or may not work THE BEST for your website. 
After specific content 
The specific content pop-up is my favorite! 
Because you can set an email form to pop up after a target trigger content which helps the user to take action then and there only. 
For instance, If you're explaining affiliate marketing and how it works. 
Right after explaining, you've set an email form to pop up, which says – "Get the FREE affiliate marketing step by step EBOOK for beginner
Don't you think the visitor will be way more interested in learning more? 
And would end up exchanging email addresses for a FREE Ebook. 
That's why email popups after a specific trigger convert more visitors. 
After a user clicks an element 
Whenever a user is reading on your site. They CLICK here and there. 
You can set the email form to pop up right after they click on any element of your website.
Design library 
As I told you previously, you get TONS of done for your templates in the design library. 
The main benefit of these designs is, they're built to increase your conversion rates. 
Easy integration with email marketing services 
Do you use other email marketing and webinar services? 
Thrive lead can virtually integrate with popular email and webinar services which include some big names like AWeber, MailChimp, ActiveCampaign, WebinarJam, and many more.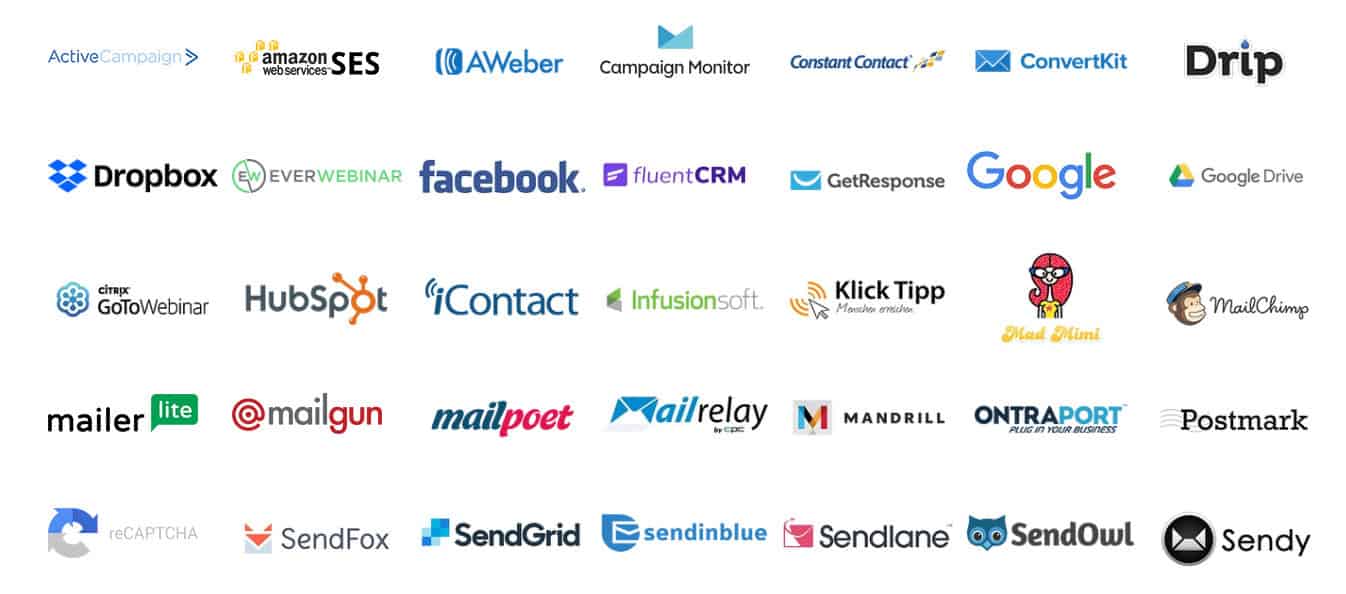 (Image courtesy – ThriveThemes/leads)
SmartLinks
SmartLink is a unique feature offered by Thrive lead. 
Which helps you hide the email opt-in form from your subscribers. 
For instance, if you're creating a broadcast list and sending users a mail inviting them to your website. This means you already have their email. 
SmartLink feature creates a special link that helps you hide the email opt-in form.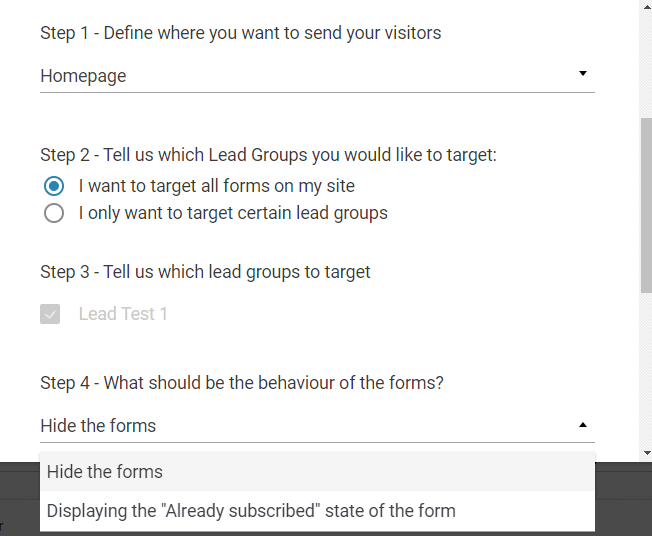 You can see the targeting options for smart links. 
Animation that catches user attention
Thrive Leads gives you 22 attention-capturing animation settings. 
You can make your email opt-in form to – 
Bounce
Spin 
Zoom
And many more 
Using a banner opt-in form or adding no animation, the user may not pay attention and you lose a lead.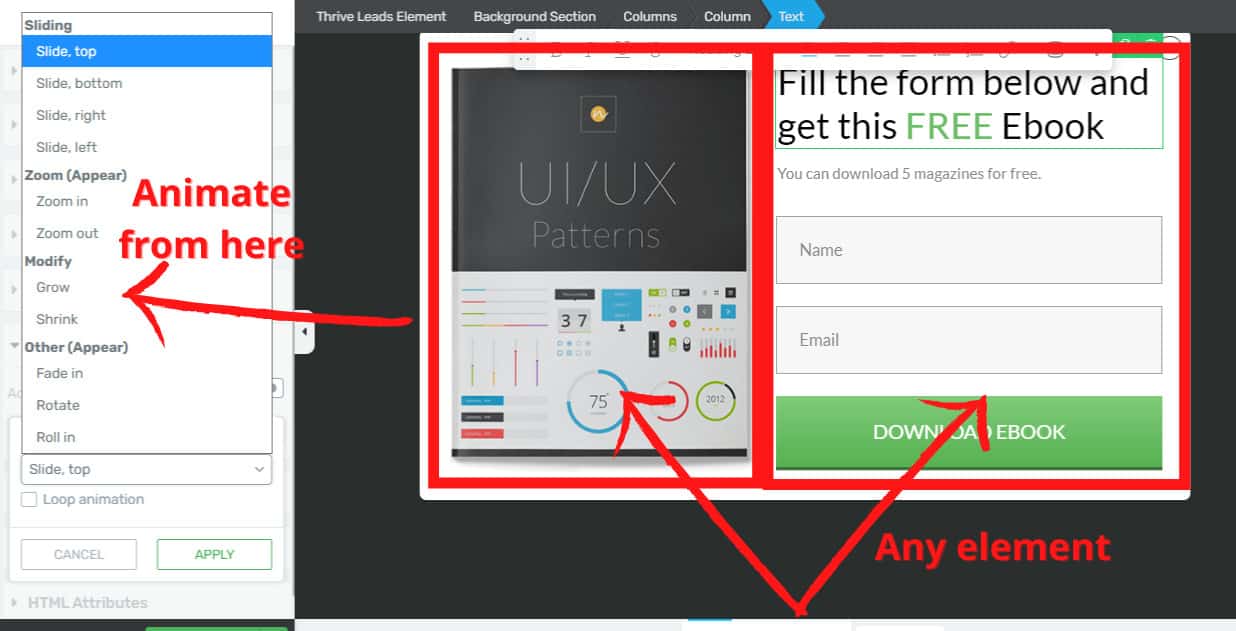 Types of forms
Words might confuse you, so I'll be adding real examples for your better understanding. 
Let's start with an overview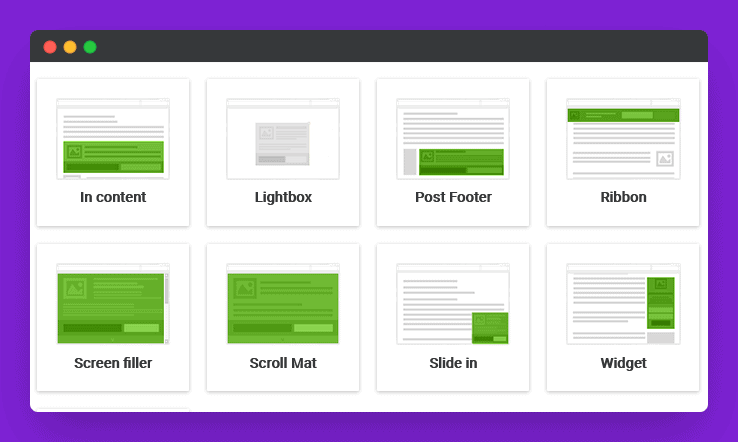 In content  
The In Content form appears between the content you're reading. 
You can set an In Content form after a specific trigger content that might motivate the reader to take action and fill the form. 
Post footer
Have you ever seen an email form right after and below the post has concluded?
That is a post-footer opt-in form. And here is its example –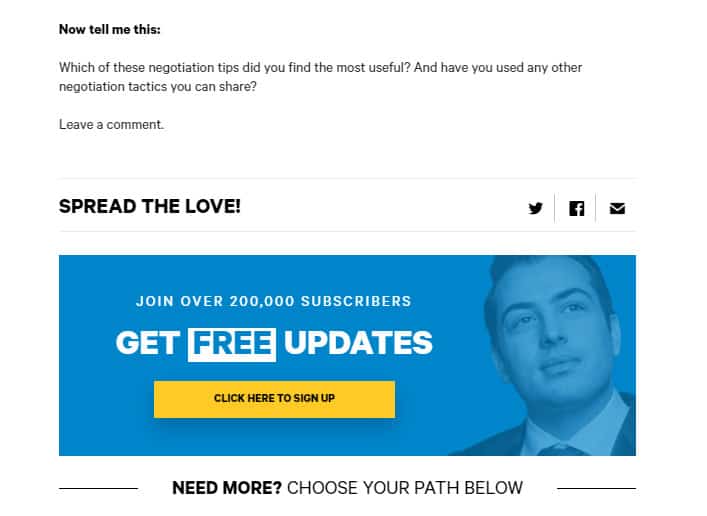 After the article is concluded, you can sign up and exchange your email address. 
Lightbox
In lightbox form type, the email form pops up in the middle and darkens the background to stand out. 
For instance – VARLEY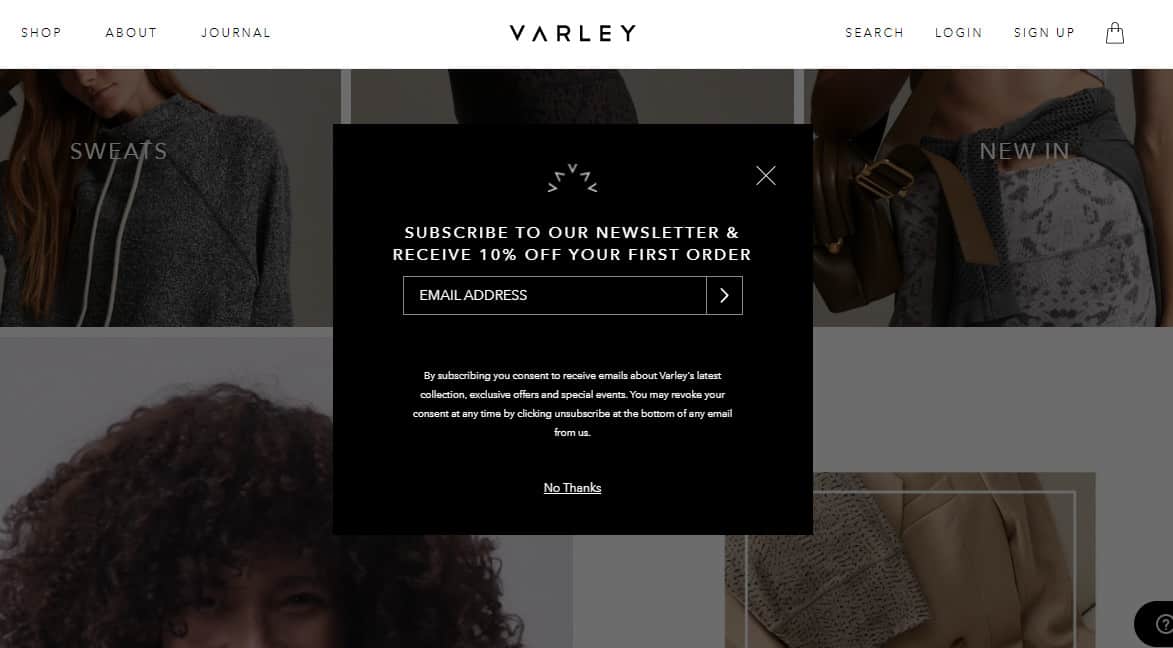 (Image courtesy – Varley)
Ribbon
The ribbon form type captures the header of the webpage. 
For instance – This SmartBlogger Blog post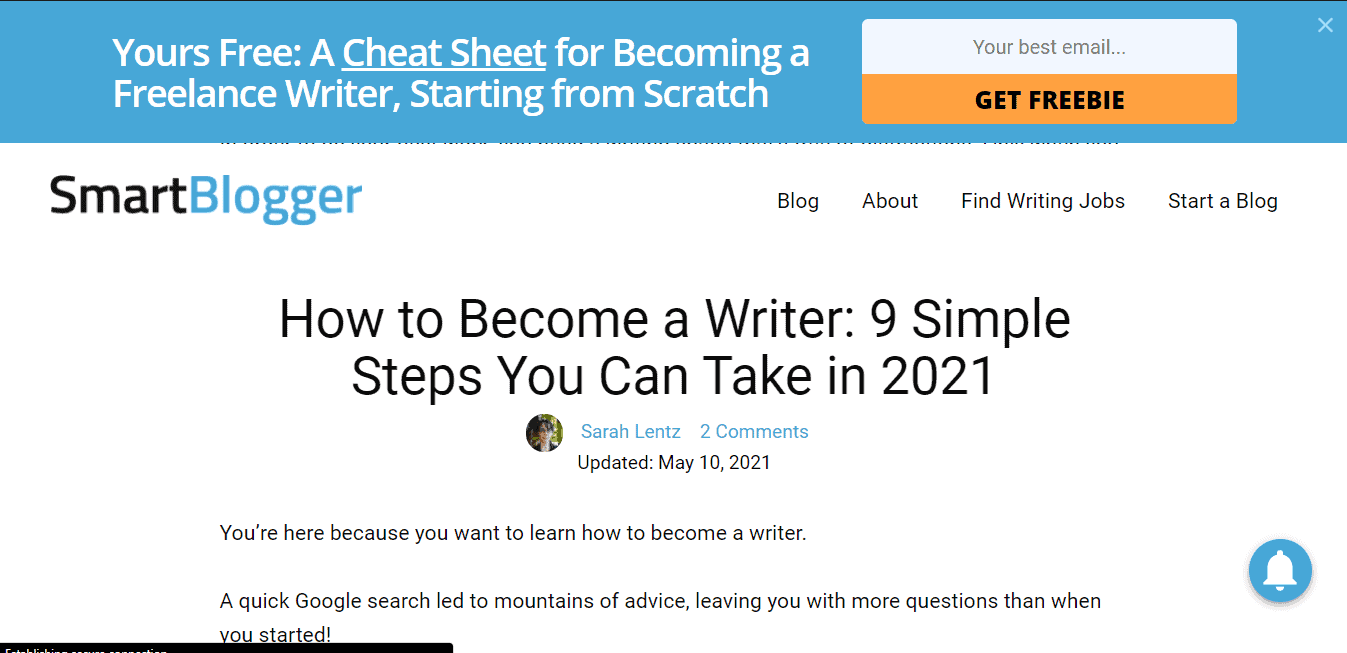 Scroll mat
As soon as the blog page loads, a scroll mat type of form scrolls down from the top and covers the whole web page. 
Slide-in
Slide-in form type appears/slides/pops in on the bottom right corner. 
For instance- This SmartBlogger's blog page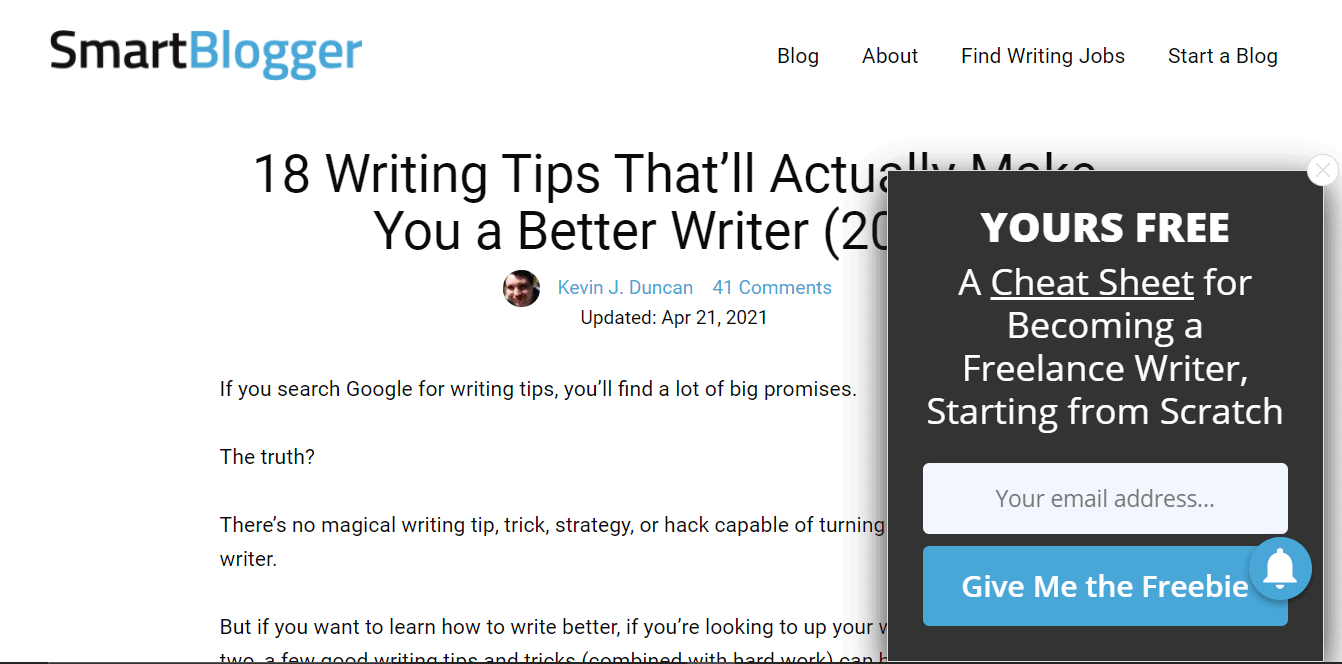 Widget 
The widget type of form appears on the blank right side of the web page. It's a normal email form that looks like a banner.
Pricing
Here comes the pricing part.
Previously, Thrive Leads had a lifetime membership deal which used to cost $67 one-time.
But now you have to purchase thrive suites which costs you $19 per month which include Thrive Leads and the rest of the Thrive tools.
FAQ
Can I use thrive leads without thrive architect?
Yes, you can use thrive leads without thrive architect. In fact, the Editor of thrive leads is built using thrive architect.
What do thrive leads do?
Thrive leads helps you build high-converting email opt-in forms in no time.
How much thrive leads costs?
Thrive leads lifetime deal costs you about $67. And if you buy thrive suites it'll cost you $19/month.
Recapping
Here is the final takeaway – 
High converting premium WordPress list building plugin. 
Visual editor.
Drag-Drop Opt-in form builder.
Hundreds of DFY (done for you) templates.
Unique A/B testing to find a winner.
Built-in analytic and tracking.
Now, we want you to let us know if you found this review on thriving leads helpful and we helped you make a decision. 
Feel free to ask questions in the comment section! Do share the review with your friend and help them make a decision.