Let me guess…
You started a new website for your business. You started writing blog posts and sales pages, but…
You think the sales pages and posts need to be built and designed exactly what's in your mind. Your designer doesn't understand your ideas.
You're tired of this BS and feel like firing your sales page designer.
The problem – Ugly looking web and sales pages that don't convert.
The solution – Thrive Architect – A visual page builder
In this post, I'll be reviewing thrive Architect. You'll discover if Thrive Architect is a good choice for your website or not
Thrive Architect Review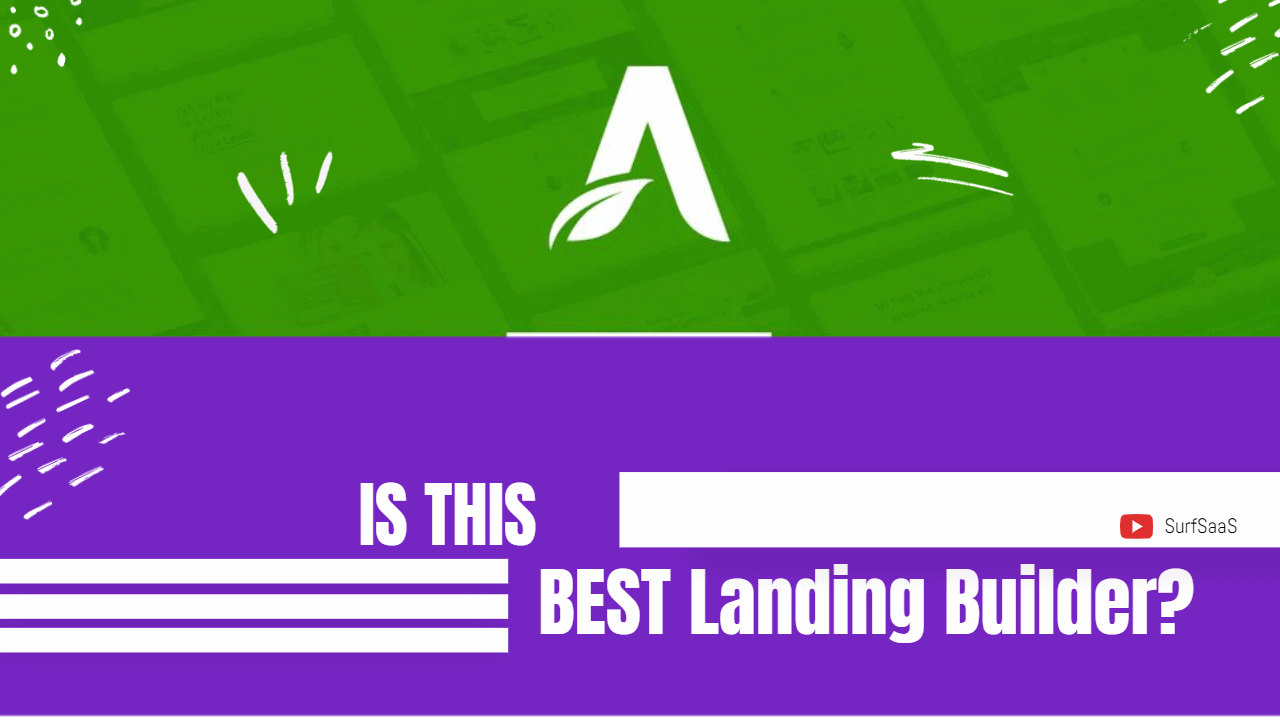 Thrive Architect is a high converting, visual, drag-drop tool that builds exact web pages that are in your mind in minutes.
Thrive architect was built by Jeremy Bartlett, who focused on ease of building high converting web pages within minutes.
Interesting Fact –
Previously, Thrive Architect was known as Thrive Content Builder. And in 2019, Thrive Content Builder's newer version was named Thrive Architect.
Pros
Using the Thrive architect drag and drop feature, you can build sales and web pages at the speed of your thought.
Get tons of proven conversion-focused landing page templates to drive more sales.
The interface of Thrive Architect is beginner-friendly. Any blogger or sales page editor can learn to use it quickly.
Designs beautiful blog posts and pages
Designs beautifully formatted blog posts and pages that visitors want to read.
Most of the users visit from a smartphone. So, you can optimize the web page for smartphone users for a HIGH CONVERSION RATE.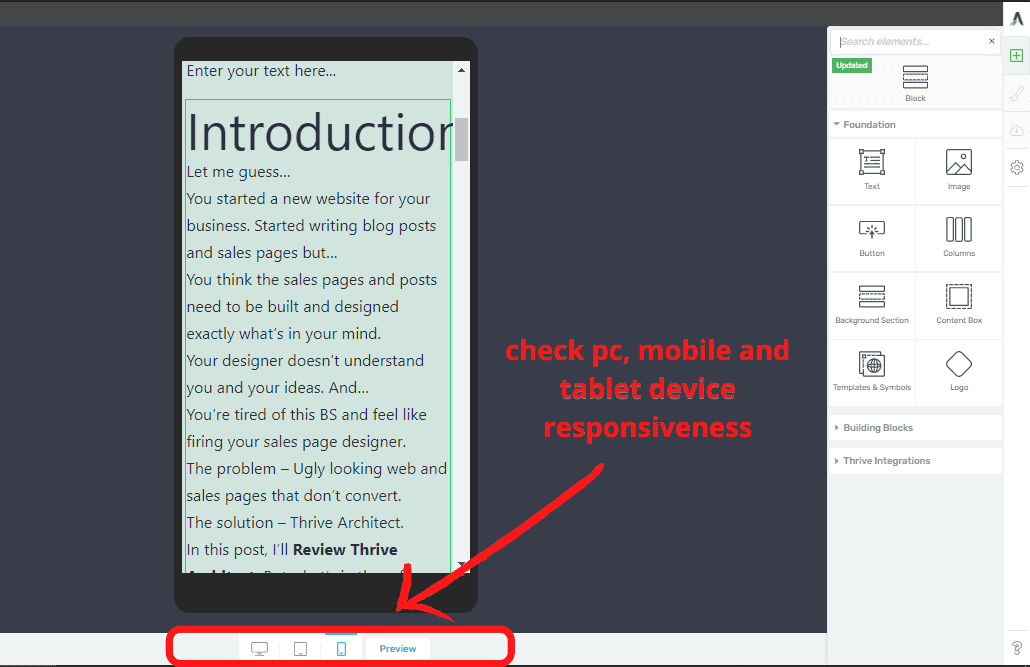 You get more than 250 pre-built conversion-focused landing pages that need simple drag-drop editing.
No coding or design skill is required.
For using Thrive Architect, you need ZERO codings or design skills. (If you have the skills its a plus point)
Like windows and MacBook, Thrive Architect has hotkeys that make the process simpler than drag-drop.
Cons
You can only design a specific web page through Thrive Architect. For designing themes, you can get Thrive Theme Builder.
If we talk about Elementor (Thrive Architect Alternative), You can do all this inside that plugin.
it does contain some bugs, which need to be removed in future updates/
No, my friend, the next is the mouthwatering benefits and features I'm about to throw your way.
(PS- Don't fire your designer LOL)
Features
Designing options (NO CODING REQUIRE)
Thrive, Architect contains never-ending designing options that require no coding.
It's a DONE FOR YOU system; all you need is to drag and drop.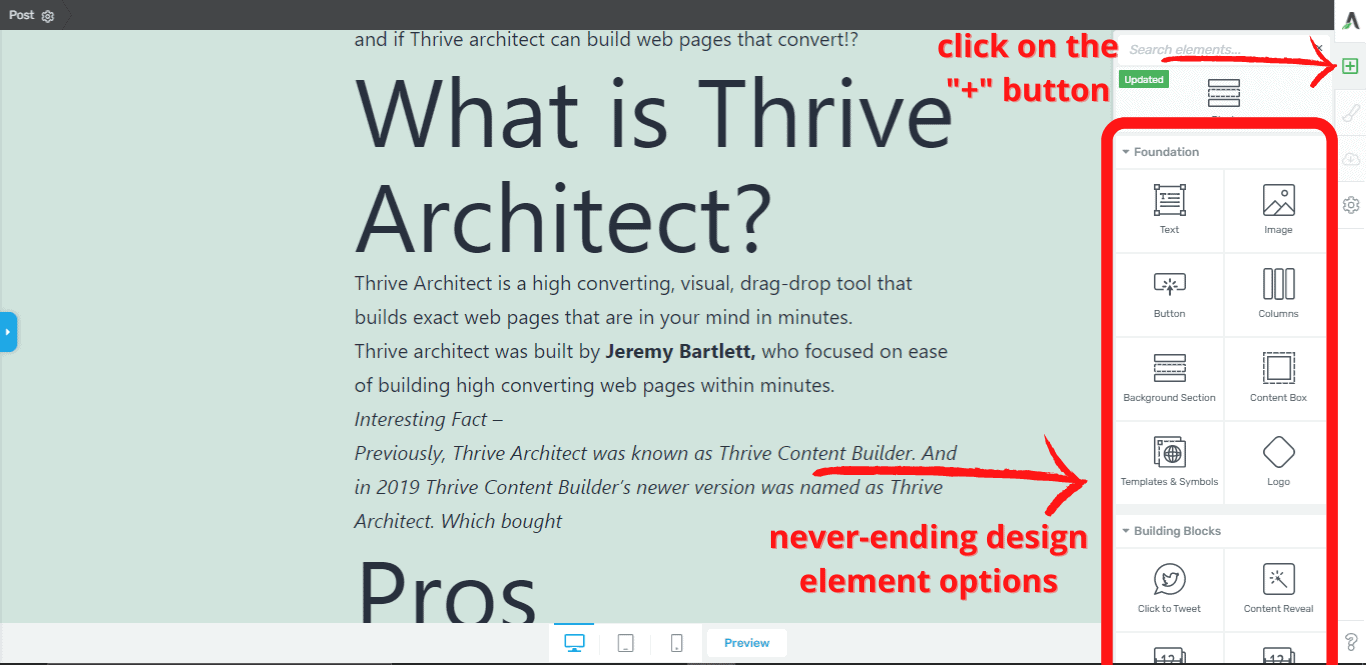 Pre-built high converting landing page templates
What's the primary goal of any business, online or offline?
To generate sales. Right?
Offline businesses can generate sales by convincing customers in person. But online, you make a landing page (if not impressive, you LOSE SALES)
And you definitely don't want to lose a sale. Right? But…
You don't even know how to make landing sales pages.
Thrive architect is just for you!! You get 290 conversion-focused landing pages that generate your sale. (even while you're sleeping!)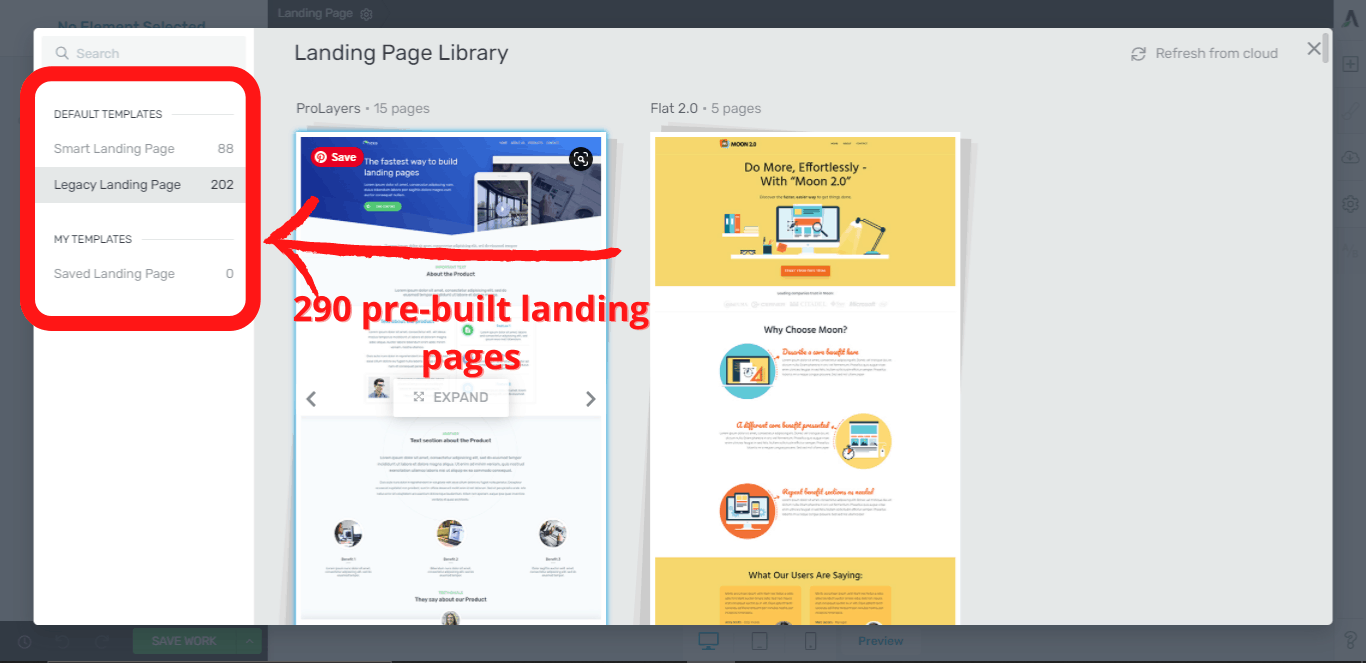 A/B split testing
Sometimes, the landing page design you LIKE may not convert at the optimum rate.
But, Thrive architect lets you create an A/B test.
Now you can create 2 or more landing pages and test to find a winning page.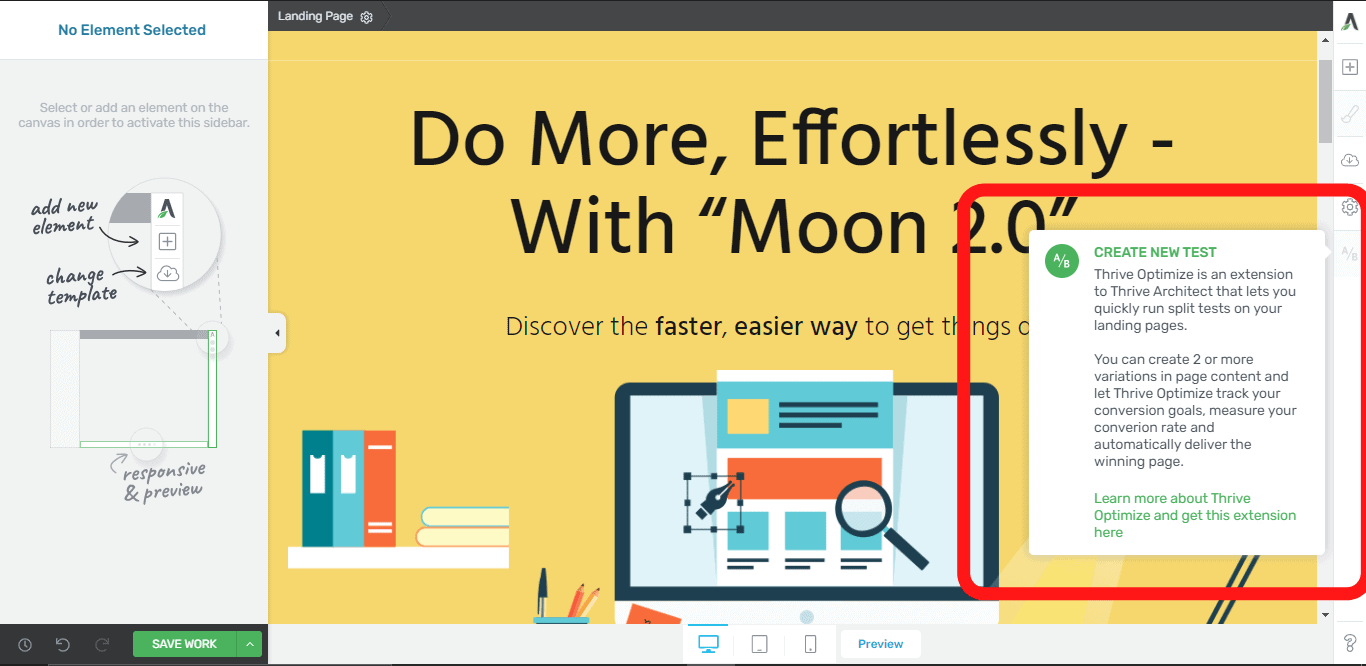 Easy integration with any WordPress theme
Regardless of your current WordPress theme and digital marketing tools, Thrive Architect can integrate with your website seamlessly.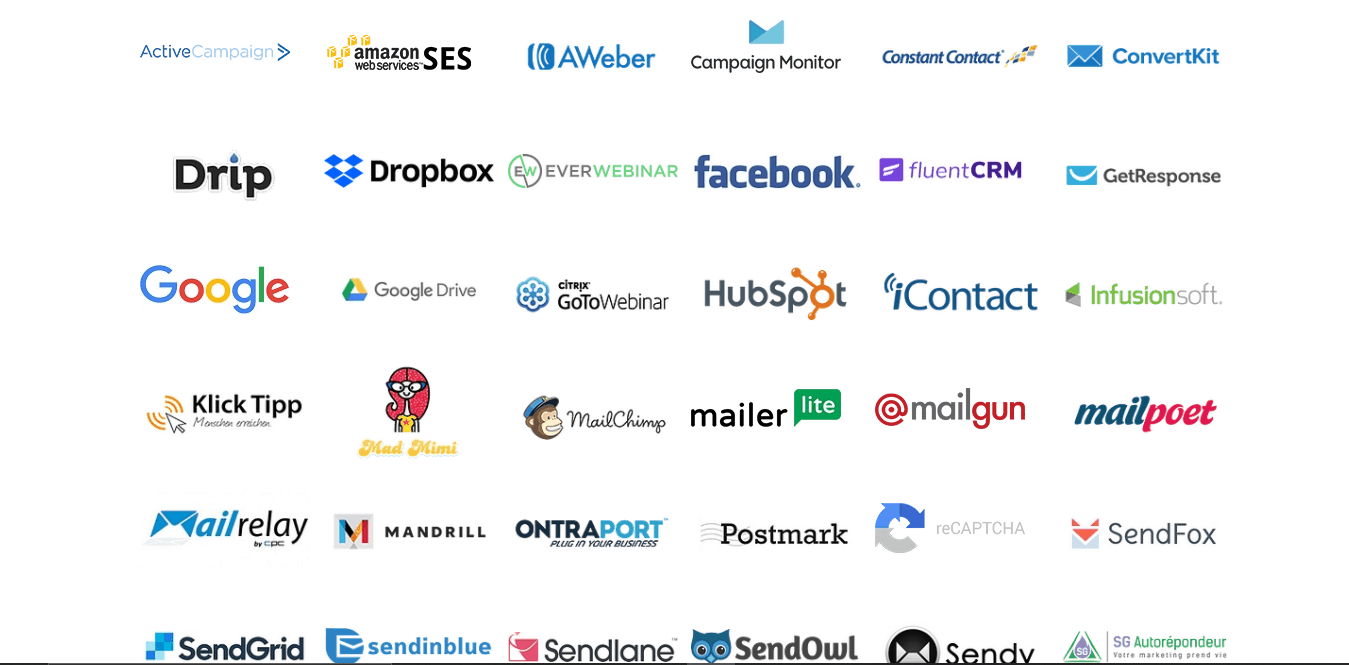 Increase conversions with building blocks
Building blocks are essential landing page elements.
But what are Building blocks, and how can it increase my conversions?
Building blocks include –
Click to tweet
Content reveal
Countdown timer (evergreen)
Credit card
FB comments
Progress bar
Table of content
Testimonial
Guarantee box
Contact form
Pricing table and many more…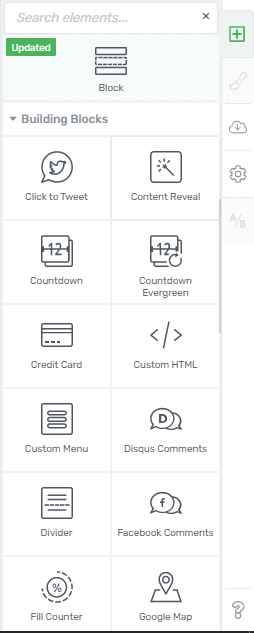 Such elements help to grow conversion and generate trust with the user.
Export landing pages
Once you've made a landing page, you'd like to export and save it to your PC.
You can do it with ease, with just one click on the settings page.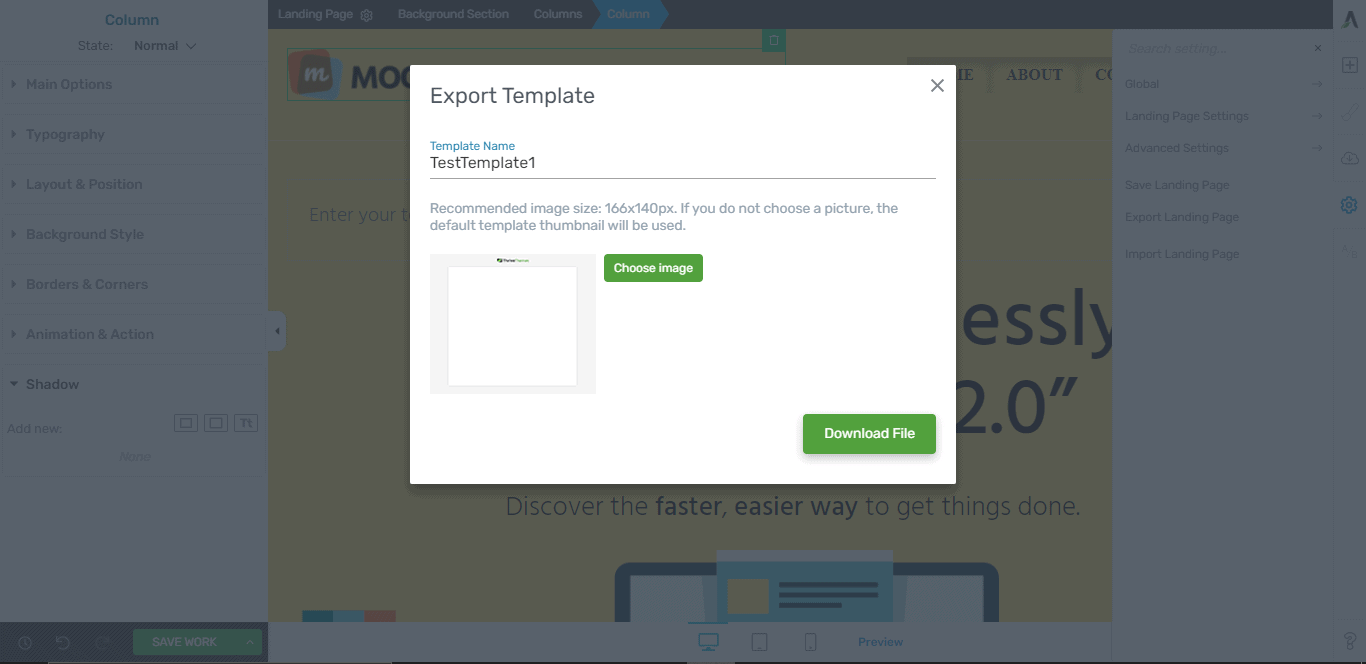 FAQ's
Can I build converting web pages with thrive architect?
Yes, the main motive of this plugin is to increase conversions. You'll get pre-made high converting web and sales pages that you can edit and use on your website.
Does my web page get optimized for mobile?
Yes! You can optimize your web and sales page, which looks GREAT on a smartphone and tablet device (real-time front-end editing).
Is thrive architect better than Elementor
Elementor gives you tons of elements and templates. On the other hand, Thrive Architect focuses majorly on conversion optimization. So, if your goal is conversion, Thrive architect is what you're looking for.
Can I use an A/B split test with thrive architect?
Yes, Thrive architect gives you an option to split your audience into A and B for testing web pages, and you can select the winning web page.
Are there any compatible issues of thrive architect with other themes?
Unlike most of the tools, Thrive architect goes along well with almost every WordPress theme. And there is no major compatible issue of thrive architect with any theme.
Conclusion
I hope this in-depth review on thrive architect helped you decide; if it does, do let me know. For any kind of question-related to thrive, architect, feel free to drop it down in the comment section below.
Recommended Reads: