Are you feeling sick when paying high-cost monthly fees for tools to run your business?
Then, I'm Having a low-priced solution for you. In this article, I've represented LVRG which will help you to save a humongous amount of money on tools like Zapier, Active Campaign, Aweber or Zoom, etc…
Stay Tuned 🙂
LVRG Review
LVRG is a Group Purchasing Organization (GPO). It gives you access to exclusive deals and discounts on tools, software, and courses from companies that they have partnered with such as ActiveCampaign and Zoom, etc.
It does this by leveraging the purchasing power of a group of businesses to obtain discounts from vendors based on their collective buying power.
LVRG is especially aimed at entrepreneurs looking to save money on tools and software and they provide support from top-level experts in many different categories of business.
Pros and Cons of LVRG
Best prices – LVRG offers its plan at a very good price, coming at only 97$/mo. which affordable enough for anyone, it offers a massive opportunity for saving a lot of money.
Exclusive community support – After you have purchased it, you have access to their exclusive community, which is great for meeting other entrepreneurs like yourself.
Cons
Customer support services – When I joined their membership their customer support was a bit slow but nowadays it's good. Still, I required more time to test out
LVRG Showcase
Deals – LVRG offers many tools from major companies and fantastic deals on them, for example –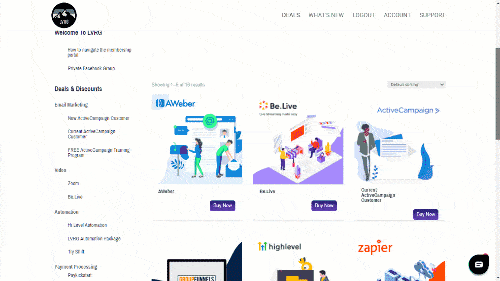 On Zoom, you'll get the business monthly plan for only 30$/mo.
On Be. Live, you'll get 20% off on any of the yearly plans.
The prices are also negotiable on some of the products
Why should you use LVRG?
Services – LVRG provides loads of deals from some major industries as ActiveCampaign, Zoom, Zapier, and many others. You will also get to join their community socials, and a chance to get free training from some top-level experts in many different categories of business.
Pricing – LVRG comes at only 97$ for the Annual Membership. Which is nothing compared to what you'll save with this.
Verdict
Overall, it is a great platform for entrepreneurs, especially if you work with a lot of tools and looking for them for an inexpensive price. And it is also affordable and user-friendly enough for any beginner too.