Are you looking for software that creates captions for your social media posts?
Well, Inksprout is a Perfect Choice for you. It's an Artificial Intelligence-based software for writing captions for Social media posts.
When you Insert any post link inside this tool, it starts to analyze & produce the best social media caption by in-depth analysis.
As a result, you'll get Summarised and a Short bullet-point formatted description.
How does Inksprout Work?
When URL input is given to Inksprout, It analyzes the entire content and produces a bullet caption by summarizing content.
There are Main two ways to Insert a post link:
First, Insert the URL in the Dashboard of this tool
Use Its extension for direct summary creation.
Here is a demo of extension;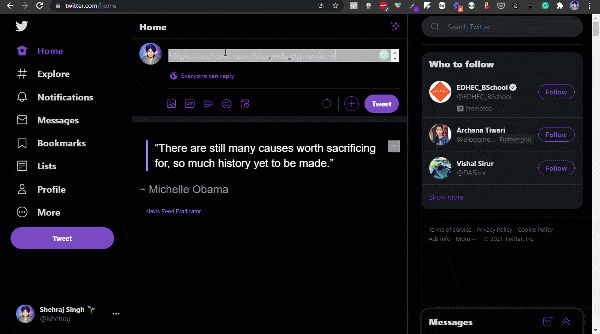 This software saves your time by Self Analysing, Summarising, and Creating Unique captions for your post. You can even schedule your content on different channels.
Features
Link Sharing
You can share links with a short Caption created by this tool. A description created by this tool is Eye-catching and motivates readers to Read More. This software manages all channels for you with its chrome extension.
Summary Composer
Select the Content and add your Post link in this tool, Inksprout analyses & picks the best, Relevant and Useful information, and converts a Short Caption. Inksprout gives you a Short Summary of your post; this tool can save lots of time.
Prompts Generator
Inksprout is one of the best tools for creating Eye catching opening lines. When you insert a link to your post, this tool automatically creates opening lines that Convert readers' minds to read paragraphs.
Compose
Have nothing to post?
InkSprout shows you trending news in a particular industry. Just add keywords related to your industry.
Boom! It'll start recommending industry news on your feed. Now, You can share those articles on social media within few clicks.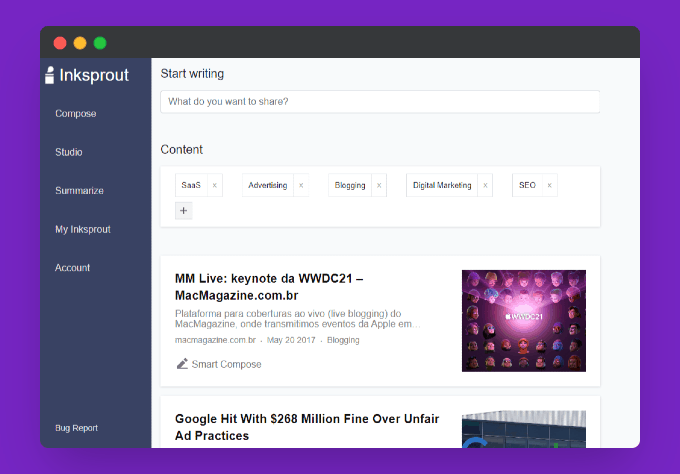 InkSprout integrates with buffer, Hootsuite, Publer and many more. They also have direct integrations with Facebook, Twitter, Linkedin, etc.
Google Chrome Extension
If you're in a hurry and want a Quick Caption for your posts, then use Inksprout because of easily accessible & a One-Click to read your description.
Pros and Cons
Summary on automation
Lifetime Pricing
Engaging bullet Caption
Saves a lot of time
Limited to bullet points
Short Descriptions
Inksprout Pricing Plan
This tool offers 3-plans:
First, you can go with FREE Plan
PRO Plan Start @ $17.99/Month
Premium Plan @ $39.99/Month
But currently, they're running a lifetime deal on Appsumo where you'll get it for $46.80.
30 captions / day

500 captions / month
Chrome extension with 9 platform integration
If you stack 2 codes, You'll get everyting unlimited. If you are a agency owner then stack two codes is must for you
Final Thoughts
It's an Easy, Advanced & helpful software for summarised description makers and scheduling Posts.
To make your life more comfortable and automate your Social channels and Scheduling posts, Inksprout is the most recommended tool for you.