Welcome to the income report page of SurfSaaS Venture. Every month I'll update this page to show you, What are the ups and downs of our venture. I believe in transparency, Every Important stat will live here.
This will help me to track the progress of my blog + help you to learn new things.
Let's start with the progress report;
Report Card
June 2021
June was pretty fun. My focus was to build a team for the SurfSaaS blog to automate it by the end of July…
Keeping this in mind I setuped these Goals
$500 income
17 Blog posts
5 Youtube Videos
Hiring new talent to scale the journey
If I talk about revenue then we did around $440 this month. Most of my income is from the Appsumo affiliate program.
To diversify SurfSaaS's income we started promoting multiple affiliate programs.
On Content Side
This month my goal was to publish 17 articles and 4 youtube videos. We did 18 blog posts but I sucked at the YT part (2 videos)
To keep the team on the same track I implemented Notion workflow in my business. I started managing the content calendars, Income reports, video projects, etc.
Not only that, but I also developed Standard Operating Procedures (SOPs) to maintain the content quality of the blog.
Content is the soul of our blog. Awesome people like you, read us because of our awesome content.
I also hired a new writer Named "Vipin Gupta". He loves to write about WordPress, designing, and productivity-based Articles. I think he'll do great addition to our blog.
–
Other than a content writer, He also started using GPT-3 based tools to maintain content quality workflow.
We started using them to
Create better outlines
Doing Basic research etc.
To maintain team level we started doing weekly meetings of our team where we communicate each Sunday around what's going to next on our blog. We discuss what's going, where we are lacking etc
At last, We worked on blog readability. We created several types of formats for bullet lists. Thanks to Nazim Ansari for his service.
Here are some samples with main pointers of June 2021
17 Blog Posts
Content Calender implementation
Hired a new talent
Content Workflows
$500 revenue($440)
4 videos (2 Videos)
Thanks to Nazim Ansari for his service.
If I talk about expenses then I invested about $350 in business
May 2021
I was so burned out that I was about to sell SurfSaaS. Thanks to the broker, He didn't recommend selling this business
I took a break started delegating tasks. Hired one writer "Gaurav Chhablani" for the SurfSaaS blog which will give me time freedom to focus on other aspects of my business.
Income – We made around $400 this month.
When it comes to expenses we reinvested around $300 back into the business. Purchased new tools, hired a writer, and much more.
---
December 2020
I shifted SurfSaaS's hosting service from WPX to Closte because WPX seems to be a little expensive as compared to Closte.
On the other hand, Closte was having better speed as compared to WPX.
We made around $74 in Dec 2020
---
November 2020
November was the first revenue month for SurfSaaS Venture. Month, I dedicated myself to creating podcasts and videos…
After publishing around 25 podcasts, I realized that I need to focus on Youtube rather than publishing more content there…
I know Podcast is having a snowball effect, But I found out that my audience is not there. They live on Youtube, Google, and FB Groups. After knowing my potential market, I started focusing on these channels.
Due to the black Friday season, We achieved 66 clicks & 8 sales which resulted in $83.82* in affiliate commissions.
We're near to a breakthrough that will be achieved in December.
Content Creation
As described earlier, I was doubling down on podcasts and youtube. First, Let's begin with youtube.
I published over 17 videos (2 are unlisted) on Youtube means 1 video per 2 days which resulted in 1134 views, 39.1 hours of watch time, and 14 additional subscribers.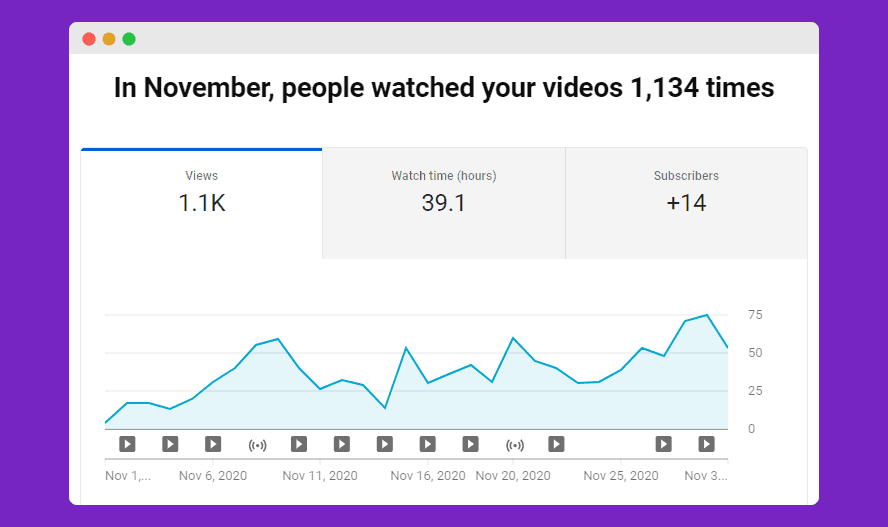 You might be thinking, How you published so many videos?
Answer: Due to the Black Friday season, There were many deals to review. This enabled me to go ahead in the production game.
This month, I also started building a Playlist on Youtube where I started adding all the active lifetime deals.
As a result, users didn't need to scan all the channel videos, They can just go ahead see all the latest deals in the market.
As well as, I also conducted the first interview on the SurfSaaS Youtube channel. BTW, Here is the list of content I published during this period on youtube.
---
October 2020
I formed the SurfSaaS brand on 15th October 2020. I didn't do any planning, Like
How Will I Grow This?
How to Start?
Other Perfection Stuff?
Calling me Mad?
Let's look at the other side of the coin, I had one clear vision + my destiny with this brand that was enough for me.
I talked with my marketing friend + My Blogging Mentor about the creation of SurfSaaS.
They Both Validated the idea. First WIN!
I quickly registered the domain and made my first investment. I'm from a blogging background. I was already having a server to host my site, Themes to design, and plugins to make my blog.
I hosted my site over WPX Site (Saved Money). Installed WordPress, used Generatepress theme + Elementor plugin to design my blog (Paid for Elementor). I was done with my basic infrastructure.
I used an Active campaign for an email marketing solution. Setuped all social media accounts for SurfSaaS.
Income + Expense Reports for Oct 2021
No Income
Domain $4/Year
Autoresponder $72/Year
Elementor – $25/Year
Total Investment: $101
Content Creation
That was the story, How we started. Let's talk about the content I created in Oct 2020.
SurfSaaS Blog:
It takes approximately a week to set up the blog. So, I didn't publish much on my blog. Still, Here are two blog posts.
SurfSaaS Podcast:
I was heavy on podcasting at that time. I published one podcast a day.
Why You Need to Leverage Remarketing for your business
Examples of Referral Marketing Campaigns
GeniusLink Vs Switchy, Rebrandly
Best Practices For Image Optimization
Amazon Vs Elon Musk
Why You Need To Focus on Serving the existing customers than new ones
Why You Need Branded Short Domain for your business
My Top 7 Tools Without I Can't Do effective marketing
AppSumo Alternatives: Grow The Craziness
AppSumo Review: What I Feel About this platform
Why Some SaaS Founders Are Playing Short Term Game
Intro of SurfSaas Podcast
SurfSaaS Youtube Channel
I was the most inconsistent guy on Youtube. To avoid this, I was looking for a system, Where I can maximize my productivity on youtube. Alas! Didn't get one.
I consider publishing non-edited videos on Youtube. I used Zoom for recording videos. Here was my process;
Create Meeting -> Record It >> Upload it
I believe in simplicity. I'm inspired by the great Leonardo da Vinci. His one quote inspired me a lot. Quote is,
"Simplicity is the ultimate sophistication."
This quote is having a very deep meaning that will inspire me in walks of life. Here is the content I created for my Youtube Channel.
Traffic
I'm only having Youtube at this moment. I'll update all other stats soon.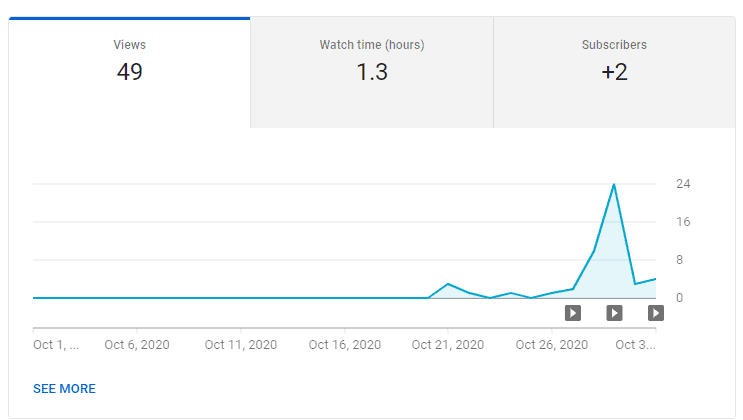 In terms of affiliate clicks, We generated over 50 clicks for vendors.
This was SurfSaaS October 2020 review. I hope this added value to your life.