"The first impression is the last impression", It's a very popular quote among bloggers and digital marketers.
It is not wrong, It's totally true. Maximum newbie bloggers get their maximum traffic from social media. Right?
Whenever anyone shares their post's link on social media, what do you see first? Featured image, Right?
You have to design good and attractive graphic designs to use on your blog. But, How can you do that?
You can do it with the help of graphic designing software.
There is a lot of graphic design software available on the internet like Photoshop, Crello, Pixelied, Canva, etc.
There are many, which one is best? If you ask me this then My answer will be "Canva".
Today, I will be reviewing canva. So, are you ready?
Okay, Let's begin!
Canva Review

Canva is an online graphic designing software that allows you to create graphics. Canva has been in the market for a very long time and still very famous which means you can trust the site.
Canva provides you many sizes of graphic templates too. Awesome, Isn't it?
Not only that but Canva is also used by industry professionals and they also recommend the tool. Because Canva is literally amazing.
Canva has more than 30 Million monthly active users. It's a huge number, Isn't it?
Top Canva's Benefits
There is a huge list of canva's benefits but for now, I will be telling you about some of the main benefits that Canva's users love.
Easy to use
Graphic design software like photoshop is hard to use for beginners. I don't say photoshop is bad, but it's hard to use. And if I talk about Canva then it's very easy to use.
Trust me, even a small kid can use it well. And the best part is that Canva's interface is very easy to understand.
Tons of ready-made templates
If you are thinking that I am bad at designing, still, Canva will work for me? If you are thinking this then let me tell you that Canva provides you tons of readymade templates of different sizes.
All you have to do is to import the template and edit the text and other elements that you want to be changed. Easy, Right?
It saves your design automatically
There are many graphic designing software in which you have to save your design manually and it is not very cool. Right? But, Canva does it itself. It will keep saving your design automatically in the gap of a few seconds.
Image Cropper
If you insert an image in your design and forget to crop then you don't need to worry because you can easily crop an image in canva for absolutely free. It will save a lot of time. Isn't it useful?
Copyright-free Image
In canva, you can get many free copyright images that you can use freely and they won't be copyrighted. Now, you won't have to look for copyright-free images to download from other sites.
Design with your team
Last but not least, In canva, you can add your team members too and can design stunning graphics by working together. It builds a kind of unity, I say. It is the best feature that I love about Canva.
Canva's Pros & Cons
I told you about the many benefits of Canva, Right? But, What about its Cons? Well, Now, I will tell you about Canva's Pros & Cons that will help you decide if Canva is for you or not.
User Friendly
Free image cropping
Flip image and elements feature
Animated text
Copyright Free photos
Trusted by many Professionals and so on.
Can't create unique elements
The graphic resizing feature is not available on the free version
Hard to use on small devices
Only Canva Pro users have access the feature like alpha transparency for PNG images
Canva Pricing Structure
Canva has both free and paid versions. Its Pro version starts from $119.99/Year. And pricing of canva depends on how many people will use it.
The price of $119.99/Year has 1 seat of use. You can select how many people will use it above the pricing and then, It will show you the price for that amount of use.
Canva Pricing Plans: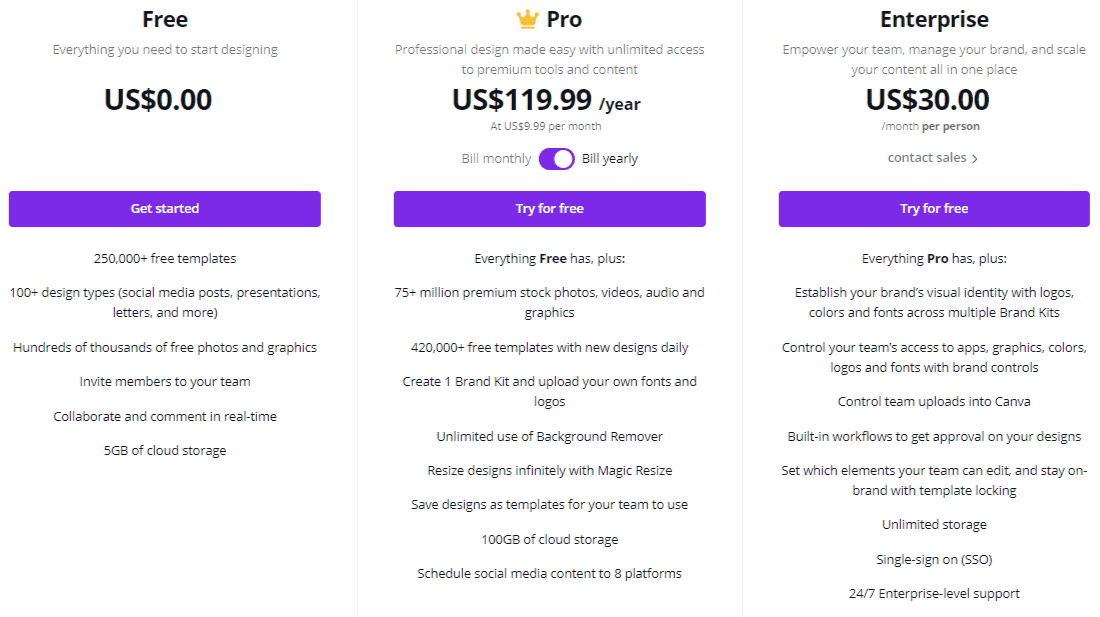 Canva has 2 Plans, One is Pro and the other one is Enterprise. Features are the same in all seats. Pricing depends on the no. of users who will use the account.
Still not convinced with Canva then there are many fruitful alternatives that may help you in your usecases.
Final Words
In my vision, Canva is one of the best graphic designing tools available on the planet.
If you want to create any size or any kind of graphic then you can create it easily through Canva. It also has a lot of templates that you can use in your graphic.
If you are looking for the best graphic designing tool then go with Canva.