BIQ is another content optimization and rank tracker tool launched on appsumo. In the past period, They gave exposure to many content optimization tools such as Frase, MarketMuse, etc…
You might be thinking, How this is different?
That's What, I'll showcase to you in this BIQ review. Stay Tuned 🙂
BIQ Review
From a first glance, BIQ seems to be a complete SEO tool kit as per positing on appsumo. They're not worth that position yet…
Why? As per my inspection, They're just a content creation tool that is having a rank tracker in it…
Basically, BIQ is divided into 4 parts. Those are
Keyword Intelligence
Content Intelligence
Rank Intelligence
Rank Tracker
They structured important aspects of the tool in the flow. First, Find a keyword, Optimize the content, Track the ranking positions.
Let's talk in-depth about it.
Keyword Intelligence
Keyword Intelligence is a keyword research tool that helps to find semantic co-related keywords. In short, Related topics.
For instance,
If you type podcasting in their search bar. You'll see many related keywords around this.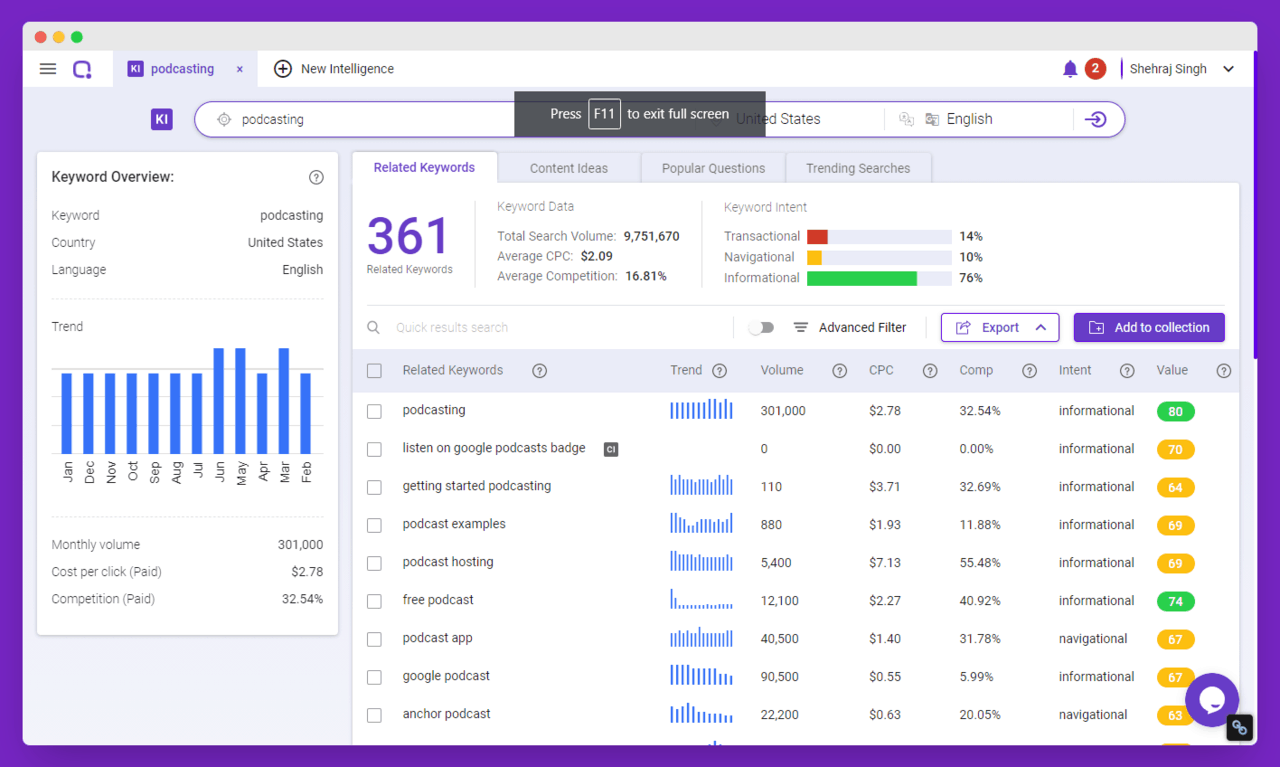 This process is called seed keyword research. You can do this process more accurately in developed tools such as Ahrefs, Semrush, etc.
Still, BIQ is a developing tool. As per a developing tool, these results are great.
When you find the keyword using their tool. This is the time to write content. When you're done with content.
This is editing face. Now, You can use their content intelligence tool to optimize the content for better performance.
Content Intelligence
Content intelligence is a tool that will help you optimize your content for TF-DIF SEO which leads to more topical relevancy of articles which helps to gain SEO traffic.
In short, This helps to optimize our content in that machines can understand the logic behind it…
You can check the practical use-cases in my demo video.
Rank Intelligence
Complete B*ll sh*t!
I didn't get any logical reason to have this tool.
Rank Tracker
Rank tracker is something that differentiates this deal from other deals on appsumo.
Their rank tracker is good. But, They didn't offer an option to set the frequency to check the ranking of our keywords.
If they add this simple feature in it, Their rank tracker is their another big USP.
---
BIQ DEMO
My Prespective
From my prespective, BIQ is another content optimization tool on appsumo. if you have grabbed other deals such as frase, marketmuse, Then BIQ isn't for you…
Purchase the BIQ deal only, If you're not using a semantic content optimization tool.
Thanks for reading!