Note: Briefcase subscription has been shut down by Appsumo, They're not taking any new subscriptions. On-going subscriptions can be renewed till January 2021.
I've been a Briefcase user for the last few months. I enjoyed its boost while purchasing products on appsumo. Benefits such as;
10% discount
Plus Membership

$196 Appsumo Credit

s
These incentives gave me another level of lifetime deals addiction.
In this article, I'll talk about my experience and the reasons behind having this purchase. What are the pros and cons of having this deal?
Let's begin with little transparency;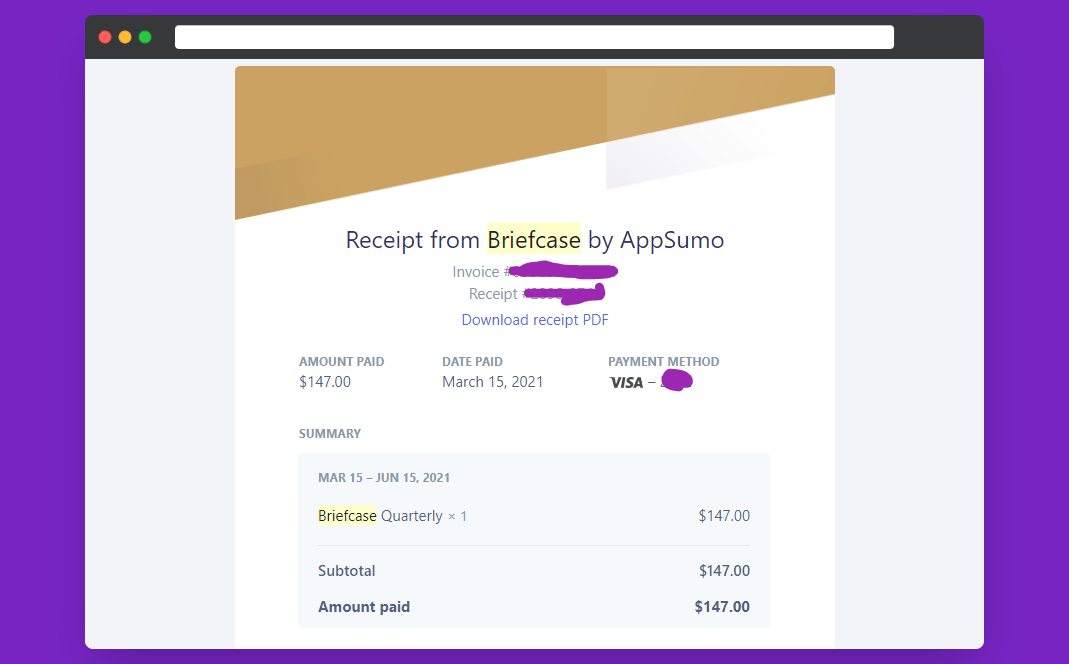 I hope this gave you clarity that, This isn't a fake review that new kids in the market do for the sake of making money. This one is Authentic, Let's begin the match 🚀
Briefcase Review
Appsumo Briefcase Membership gives you a boost while making purchases on appsumo and also provides memberships to other SaaS providers.
It's a membership program developed by my favorite creator Noah Kagan and AppSumo group.
At first, they were marketing this service as a Netflix of saas tools where you can get access to many tools with a payment of $49/month. Things have been changed.
It is more evolved as an alternative to appsumo plus.
The briefcase contains every benefit of plus membership which means you can access Appsumo's plus exclusive library
How Briefcase Works
After the payment, You'll receive $196 worth of credits inside your account. Which seems like a good deal.
Spend $147 to have $196 worth of credit.
Still, If you are someone who didn't spend much on their site. Maybe this isn't for you.
Still, you can explore the pros and cons for more clarity.
Pros– Why I like it?
$196 Worth of credit
10% off on every purchase
Exclusive plus member perks
Access to KingSumo and Sendfox for free
Cons – Why I dislike it?
No Refund Policy
Limited tools in their product page (Used to be many)
Pricing
Briefcase charges $147/quarter which turns out to be $588 every year. As explained earlier, All the benefits will be available during the active payment cycle except your KingSumo & SendFox account.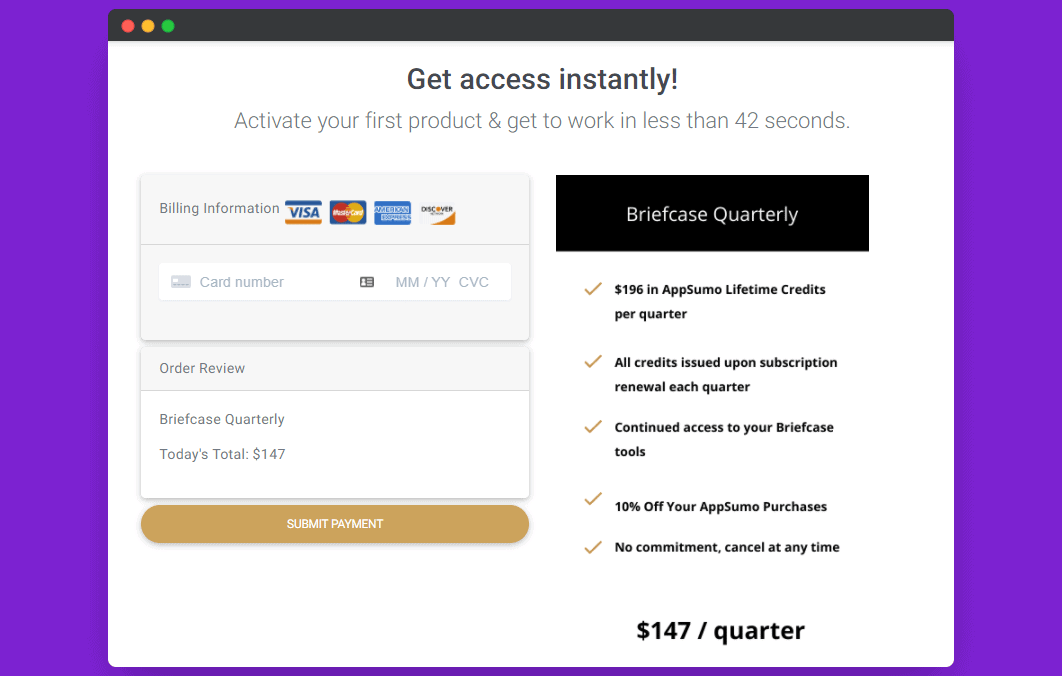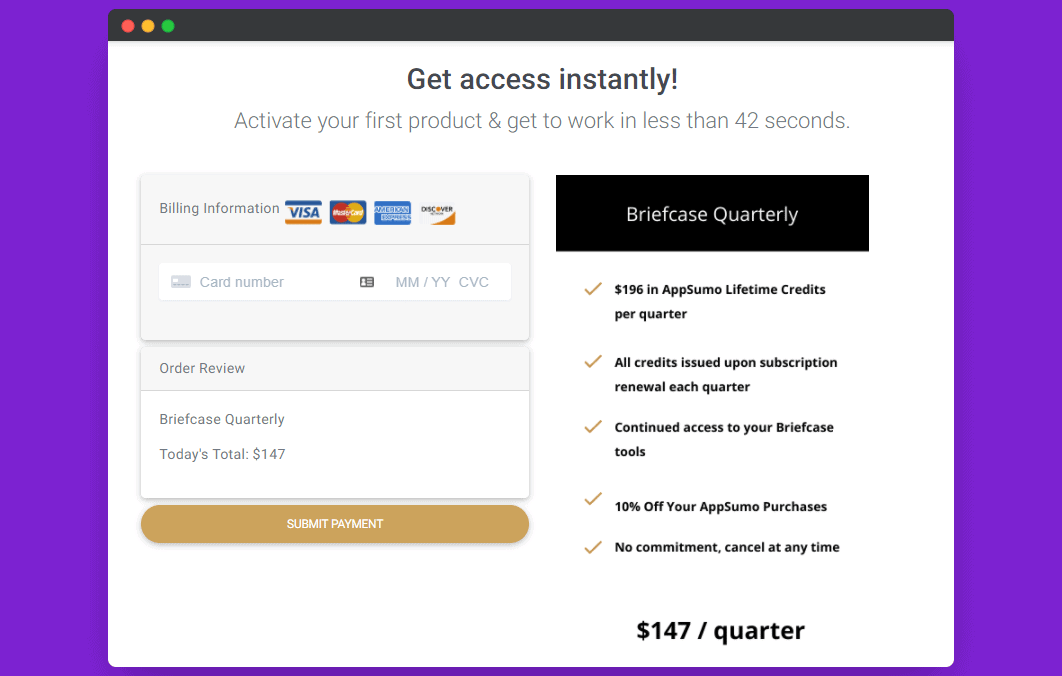 If you think their membership plan should renew monthly then you're not alone.
I saw many users have 3 Appsumo and briefcase accounts which means they want to have more discounts on their deal which is kind of cool.
Appsumo Plus Vs Briefcase
Appsumo nearly killed their plus membership after their recent update where they started providing 196$ credit instead of Chips (OLD Credit System)
With chips, You can only purchase code-based deals but no more. You can purchase every deal with this update.
Now, When you opt-in for Appsumo's Plus plan you've to pay $99/year for 10%, tools, etc. But, You didn't receive credits in return
In the case of Briefcase, You'll get $196 by spending $149/quarter, Plus membership access and way more…
Winner: Briefcase
Frequently Asked Questions
What is Appsumo Briefcase?
Briefcase is an membership program which offers exclusive rewards
What is difference between Appsumo Plus and Briefcase
Briefcase offers all the benefits of plus membership. Plus, They do pay the extra money back in the form of credits.
What is Briefcase pricing?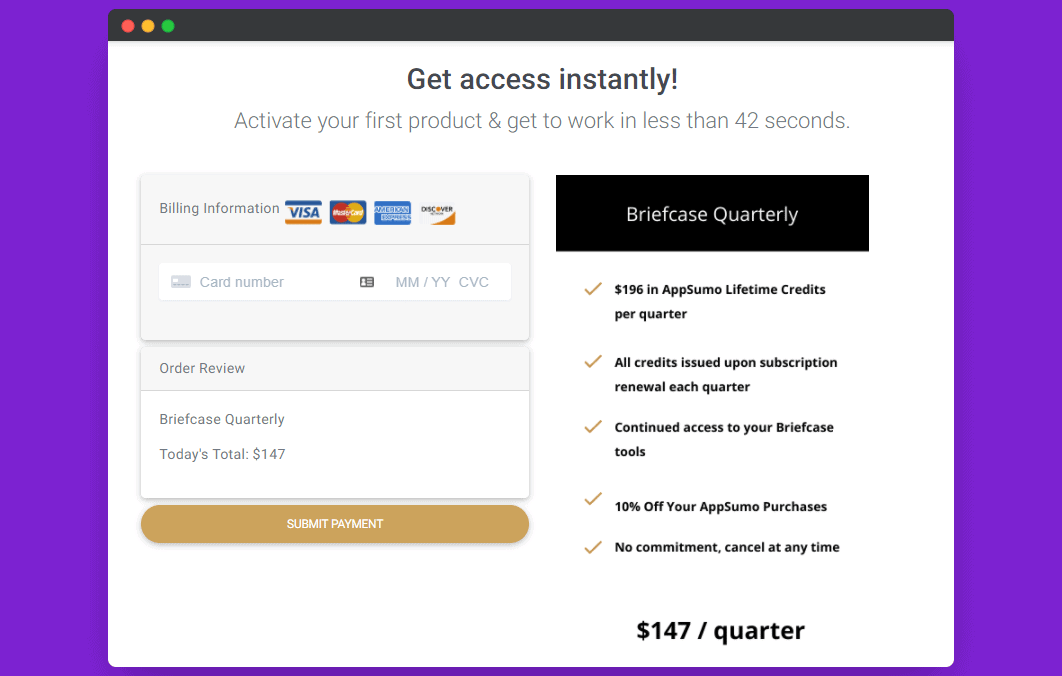 Briefcase membership is priced at 147/quarter
Do Briefcase offers free trial?
No, They didn't have any free trial.
Is Briefcase Right For You?
If you're someone who is spending more than $147/quarter on AppSumo deals, the Appsumo briefcase is built for you.
It is beneficial for those who are always willing to try new things, as it helps in saving money for high purchasers.
If you're someone who doesn't buy AppSumo deals and is looking for a bargain, the Appsumo briefcase might not be worth it. That's the other case if you want more credit inside your account.